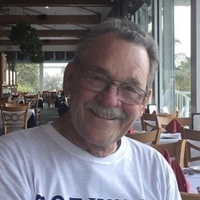 Michael "Mike" Fredrick Harris, 72, of Ft. Washington, MD passed away on Tuesday, April 21, 2020 at home surrounded by his family after a courageous eight (8) year battle with cancer.

He was born on October 15, 1947 in Washington, DC to Margaret Harris-Wood of Ft. Washington, MD and the late Kriel Charles Harris.

Mike joined the United States Army in 1967 and proudly served his country. A veteran of the Vietnam War, Mike never lost his patriotic pride for his fellow soldiers and their dedication to our freedom. He was honorably discharged in 1969 and became a self-made business man, owning his own telephone and IT business.

Mike met the love of his life and best friend, Helen, whom he affectionally called "Broomie". They spent over thirty (30) years married and raising their three wonderful, kind and caring children. Mike loved seeing his family grow with the birth of each of his seven (7) grandchildren.

Mike could be found most days enjoying a cold Budweiser at Texas Ribs or the Hideaway with his longtime friends. He could come off as a real tough man, but he felt deep affection for his friends and cherished his days with them. He also enjoyed spending a beautiful day out on the water. A calm breeze, sunshine, cold beer, fish biting and he'd discovered his own version of heaven. Mike was an adventurous, fun-loving, charismatic man who was always ready for a road-trip to where ever his heart desired. Hop in, buckle up and be ready for an adventure.

Mike will always be remembered for his quick wit, honest conversations, hard work and above all the love he felt for this family and friends. A man is only as great as the legacy he leaves behind. Mike was one of a kind and his determination, work-ethic and gracious spirit can be found in the eyes, smiles and laughter of his family. When you pop the top and you feel the first cool sip, know Mike is sitting beside his love, Broomie and toasting you and wishing you peace, love and an adventure.

He is survived by his mother, Margaret Harris-Wood of Ft. Washington, MD; children, Rhonda (Keith) Farrell of Mechanicsville, MD, Kimberly (Don) Devore of Round Lake, IL and Douglas Harris of Prince Frederick, MD; and seven (7) grandchildren, Derek, Tyler, Shelby, Hannah, Jake, Katie, Nathan and Caleb. He is also survived by siblings, Bo Harris, David Harris and Charlene Harris. Mike was preceded in death by his father, Kriel Charles Harris and beloved wife, Helen Harris.

At this time all services will be private. The family will hold a Life Celebration for Mike on July 4, 2020 with all specifications to come at a later date.