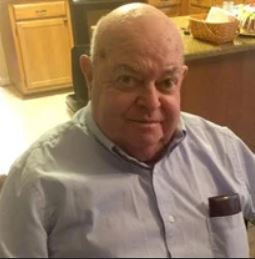 Wilson Howard Goldsmith (Sonny) of Hughesville, MD, passed away on Thursday, April 16, 2020, at the age of 80.

Born on November 9, 1939, in Hughesville, MD he was the first of 6 children born to the late Wilson (Hart) Goldsmith and Marian (Dyer) Goldsmith. After graduating from La Plata High School, he worked on the family farm in Benedict, MD. After marrying the former Mary Tayman of Brandywine, MD, he continued farming while working as a plumber's apprentice, often commuting into Washington, DC for plumbing jobs and returning later in the day to farm. As his family responsibilities grew, Sonny changed careers and worked over 30 years as a route salesman for Coca-Cola and Asycue Distributing. His next career was with Giant Food, in Waldorf, MD for 20 years, where he warmly greeted and helped customers until he retired in 2016.

Sonny had a reputation as an early riser and possessed a work ethic unparalleled to any. He was a humble and generous servant, always putting the needs of others before himself. As a young man, he was blessed to meet and know so many of the individuals who helped shape Charles County and Southern Maryland into what it is today. He was a walking encyclopedia of facts on Southern Maryland and will always be known as a Southern Maryland Monument of a Man. A devoted father, he loved his family, farming, anything John Deere, country music, eating Maryland blue crabs and other seafood, going to Maryland Live to play the slot machines, drinking Coca Cola, eating at McDonalds and being social. He loved being around people and everyone loved being around him. He could light up any room with his infectious smile, sense of humor and joke playing. He was the most loyal, kind, good-hearted and upstanding man one could know.

Sonny is survived by his wife of almost 60 years, Mary (Tootsie) Goldsmith; his two daughters Joan Bryan (Mike) of Waldorf, MD and Kathy Perriello (Joe) of Waldorf, MD; and his three grandchildren Pam Snyder, Joseph Perriello Jr. and Julie Perriello of Waldorf, MD.

In addition to his parents, Sonny was preceded in death by his sisters Dorothy Nelson and Maryann Goldsmith and brother Richard (Morris) Goldsmith.

Burial services will be private. Memorial contributions can be made to St. Mary's Catholic Church in Bryantown at https://stmarysbryantown.com, Building Restoration Fund in memory of Wilson H. Goldsmith. Online condolences and guest book is available at www.raymondfuneralservice.com.