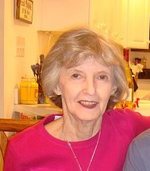 Maryann Reibsome, 74 of Lexington Park, MD, passed away at her home, April 17, 2020. Born July 28, 1945 in Danville, PA. She was the daughter of the late Helen Coates and Louis Bramley. Maryann is survived by her son: Stephen Reibsome (Denise), of Leonardtown, MD, daughter Barbara Reibsome King of Lusby, MD. She is also survived by her brother, George Bramley of PA; grandchildren, Daniel King (Hollie) of Park Hall, MD, Stephanie King of St. Helena Island, SC, Amber Reibsome of Granger, IN, Amanda Shields of Leonardtown, MD, and two great-grandchildren, Erik Schramm of Leonardtown, MD and Drew Marie King of Park Hall, MD.

Maryann grew up on farm in Danville, PA. She loved the farm and had many fond memories there with her brother.

Maryann married right after high school and moved to St. Mary's County in the early 1960's as a young Navy wife where she started her family.

Many St. Mary's County residents remember Maryann from her years at the First National Bank of St. Mary's and as a long time Real Estate Agent with Waring Associates. Maryann was a member of the St. Mary's County Chapter of the American Cancer Society during the 1980's. She organized and participated in many fundraisers including the Daffodils for Cancer campaigns.

Maryann loved Irish Setters and homed several over the years. She loved animals in general and rescued numerous cats and dogs over her lifetime.

Maryann loved to work in her yard and took a lot of pride in planting many trees, shrubs, vegetables and flowers. Her hands were always full of scrapes and cuts from all the hours she worked in her yard. It gave her much joy.

She received scholarships to attend Trinity Washington Catholic College in Washington, DC where she obtained her Bachelors degree in her late 40's while she continued to work full time. After earning her Bachelors degree, Maryann worked for over 25 years as a Contract Specialist at a local Government Contractor, Veda.

Contributions may be made to St. Mary's County Animal Welfare League.