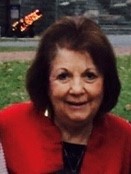 Angelina "Jeanne" Barbara Toth entered into eternal life on April 11, 2020 surrounded by her loving family. Several months ago, Jeanne received a diagnosis of cancer, and she responded with courage, grace, and constant gratitude for the blessings she saw every day in the midst of it all. Jeanne was the Oldest child born to Vincenzo and Lena Tartaglia. She grew up in a loving Italian family in Mont Claire PA with sisters Rosalie and Linda, and brothers Jimmy and Danny. She married her beloved husband Frank when she was 19 and was a loving and faithful wife for 62 years until the time of Frank's death this past June. She was a navy wife which meant moving every couple year while raising their four children, Frankie Jr, Karen, Terri, and Ricky.

In 1978 they bought the Oakwood Lodge and worked there together for 20 years. Jeanne loved music and singing, especially Frank Sinatra. She loved socializing, eating & cooking but mostly she loved her family. She always made time for all of them and made each one feels special. She is survived by her daughter Karen Stanley, daughter Terri Evans and son-in- law Joe, and her son Ricky Toth and daughter- in-law Tami. Her oldest son Frankie Jr. passed away this past June just one week after her husband Frank passed. Her first granddaughter Aimee sadly passed away at one month old. She had 8 more grandchildren which gave her most recent precious gift of 14 great-grandchildren. She is now reunited in Heaven with one, Kaimee, and the most recent bears her namesake: Angelina. Jeanne touched countless lives and will be deeply missed.

Her family would like to extend their sincere gratitude to her extended family and many friends who stood by her side especially in the end. The phone calls, cards, and visits meant so much to both her and us.
We also extend a heartfelt thank you to Hospice of St. Mary's who cared for both Frank and Jeanne.

In lieu of flowers please send donations to their organization.