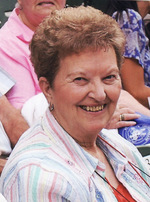 Mary Alice Knott passed away on April 13, 2020 in Hollywood, MD.

Alice was born on August 18, 1933 in Washington, DC to Mary Rosalie Johnson Norris and Frederick Abell Norris, Jr. She was predeceased in death by her husband, James Francis Knott, Sr; her parents Mary Rosalie and Frederick Norris; her sister, Jean M. Matthews and a special companion, James Unkle.

Alice is survived by her children, James F. "Jimmy" Knott, Jr., Rosedale Yannayon (John), and Joseph F. "Joe" Knott (Tammy), all of Hollywood, MD; her grandchildren, John G. Yannayon (Sara) of Conway, SC, Bryan F. Yannayon of Abell, MD, Mallory J. Knott Gase (Chris) of Mechanicsville, MD and Jeremy F. Knott of Washington, DC and great grandchild, Jolie M. Gase of Mechanicsville, MD. She is also survived by her siblings, Joseph F. "Freddie" Norris (Diane), and James William "Billy" Norris (Gail) of Hollywood, MD and Janice A. Abell (Bobbie) of Leonardtown, MD.

During the 1930s, Alice spent several childhood years in Washington, DC before moving with her parents and siblings to Hollywood, MD to live and work on a family farm located on Steer Horn Neck Road and Ingleside Road. Alice graduated from St. John's School in Hollywood, MD and Great Mills High School in Great Mills, MD. After high school, she went to work for the C & P Telephone Company in Leonardtown, MD where she worked as a telephone operator. She also helped her parents run the family general store, Norris' Store, located on Sotterley Road in Hollywood, MD. While working at the store one evening, Alice met James "Francis" Knott, Sr.

Alice married James "Francis" Knott, Sr. on September 18, 1956 at St. John's Church in Hollywood, Maryland. They moved to and lived for over 25 years at Rosedale Farm in Hollywood, MD (now Greenwell State Park). Francis was the manager of the farm and later became the first superintendent of Greenwell State Park. Alice and Francis had three children, Jimmy, Rosedale, and Joe.

While raising children, and working with her husband on the farm, Alice worked several different jobs and made friends with many of her co-workers. Some of those jobs were with WT Grant Store and Larry Millison Development in Lexington Park, MD; St. Mary's Nursing Center in Leonardtown, MD; McKay's Food Business Office in Hollywood, MD, and American Greeting Cards. Alice was a past member of the Hollywood Volunteer Rescue Squad Auxiliary and Associate Member of the Ladies Auxiliary to the Hollywood Volunteer Fire Department.

Throughout these years, Alice, Francis and her family enjoyed many family gatherings at holidays and special occasions, as well as water activities such as boating, fishing, and crabbing on the Patuxent River. After their children were grown, Alice and Francis built their new waterfront home by the Patuxent River in Hollywood, MD. Starting in 1982, grandchildren (John Yannayon, Bryan Yannayon, Mallory J. Knott Gase and Jeremy Knott) blessed their lives.

After 34 wonderful years together, Alice was predeceased in death by her husband, James "Francis" Knott, Sr. on September 1, 1991. Alice moved to a new home on Half Pone Point Road that was being built at the time of her husband's death. Alice continued to work for McKay's Food Business Office and engaged in activities such as line dancing and bingo.

She met Jimmy Unkle in the mid-1990s and he became her special companion. They shared approximately 20 years together and enjoyed many trips together. The most memorable trips were on the boat cruising the inter-coastal waterways from Maryland to Florida and staying in Florida during the winter months. Alice was predeceased in death by Mr. Unkle in 2013.

Alice enjoyed going on other trips, especially with her sister, Jean, to Branson, MO, and to Daytona Beach for the NASCAR races which included her brother, Billy and son, Jimmy too. They spent many fun hours together reminiscing childhood memories and creating new ones. She especially enjoyed a trip to South Dakota and Yellowstone National Park with her daughter and son-in-law, Rosedale and John. Trips to South Carolina to visit her grandson and his wife, John & Sara Yannayon were also very memorable.

In 2016, Alice moved to the Senior Apartments in Lexington Park, MD where she continued to be active with line dancing, bingo, adult coloring, senior activities and going on trips. She was an avid fan of NASCAR and Jimmy Johnson, #48. Alice was a kind and giving person and will be missed by all who loved her.

All Funeral Services will be Private.