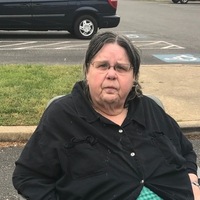 Martha Lucille Gray, 72, of Mechanicsville, MD departed this life on Monday, April 13, 2020 at MedStar Southern Maryland Hospital Center.

She was born July 21, 1947 in Leonardtown, Maryland to the late Daniel Benjamin Gray and Teresa Mae (Flora) Gray.

Martha was a wonderful woman who always had a bright smile, a strong will and caring heart. She adored her family above all. Although she was never a mother, she had many "children". She was a childcare provider who loved each of her babies as if they were her own. Known as "Mama" to many, she was proud to have played such a huge role in the development of young minds. Martha always made sure they all knew how much she loved them.

She was a sassy woman with a heart of gold. She loved to do crossword and word search puzzles. She also was very talented at doing latch-hook crafts. Martha was primarily homebound but she never felt left out, she had a parade of visitors and loving family members always checking in on her. Family was everything to Martha and if you knew her, you were family.

A great woman has made her way to heaven. She will be missed by many, but none as much as her family. Martha is happy, healthy and soaring in heaven. Every time you see a feather floating down from heaven, know Martha is sending you an "I love you.".

Martha is survived by her brothers, Charles Gray of Mechanicsville, MD and John "Freddy" Gray of Mechanicsville, MD; one (1) niece, Susan Matlock; three (3) nephews, Allan Watermolen, Michael Gray and Danny Gray; numerous great-nieces and great-nephews; and sister-in-law, Gail Richardson. She was preceded in death by her parents.

At this time all services will be private. The family will be holding a Life Celebration at a later date.

Condolences to the family may be made at www.brinsfieldfuneral.com

Arrangements by the Brinsfield Funeral Home & Crematory, P.A., Charlotte Hall, MD.