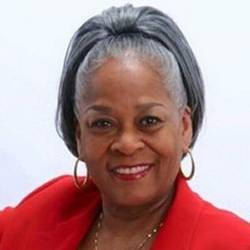 Betty Jean (Johnson) Bigesby (75) of Friendship, Maryland

Betty Bigesby peacefully transitioned to eternal life on Thursday, April 2, 2020 at her home, surrounded by her loving family. Betty was affectionately known as "Bet, Ma Bigesby, or Apostle", was the 3rd child of the late Johnnie and Ella Johnson. She was born and raised in Washington, DC and attended DC Public Schools. She graduated from Paul Lawrence Dunbar High School in 1963. She completed some college classes at University of District of Columbia (UDC). She held a Bachelor's degree in Biblical Studies, from Grace Bible College and Seminary.

Betty was talented in many areas. She held several jobs as an office assistant. She was most proud of her career in catering. Betty was the owner of Mrs. B's Cakes and Catering for over 20 years. This was not only a food service business this was also her way to share her love for God and lead many to Christ. This eventually led to her becoming Senior Pastor of Jubilee Worship Center in 2003.

Family was very important to Betty. She met the love of her life and father of her children, Derek Cornell Bigesby Sr. whom she married September 1, 1973. They are proud of many things that they have accomplished but none more than the children they have. They are the proud parents of Michael Bigesby, Sr., Derek Bigesby Jr., Nicole (Bigesby) Ford, and David Bigesby. She was happy to welcome all four of her children's spouses into the family; Tracy Bigesby, Lisa Bigesby, Charles Ford, and Amelia-Nicole Bigesby. Betty had 15 grandchildren; J'Nelle (Terrell), Michael Jr, Travis, Christopher, Alex, Courtland, Elijah, Tatianna, Derek III, Dion, Kennadi, Andrew, Gabrielle, Shayla, and Amari and she currently has one grandchild on the way. She also has one great-grandchild, Caiden Tunstall.

Betty is the Senior Pastor of the Jubilee Worship Center in Chesapeake Beach, Md. She was commissioned as an Apostle in May 2011. She has assisted other ministers, ministries, pastors and community groups in developing and training leaders.

Those who proceeded Betty in death were her two sisters, Johnnie Mae Johnson and Barbara Austin; and also four brothers, Johnnie Jr., Ellis, David, and Larry Johnson. In addition to her husband, children, and grandchildren, she leaves to continue celebrating her life one sister, Delores Webster, two brothers, Oscar and Tommie Johnson, one brother-in-law, Robert Webster, two sisters-in-law, Yvonne Johnson and Brenda Johnson, one Uncle, Pernel Johnson, and one, Aunt Orlean Johnson, a host of nieces, nephews, cousins, spiritual children, and friends.

A private viewing for the family will be held in her honor, Thursday, April 9, 2020 in the Chapel of Thornton Funeral Home, P.A.