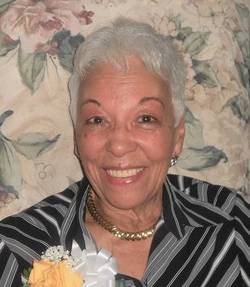 Inez was born on Sept 7, 1933 in historic Southern Maryland in a town on the Potomac River called Port Tobacco. Her paternal grandparents were Patapsco Indians.

She married Harrison G. Keys and had eight children. At the death of her husband, she became the sole provider for her children.

Here employment started at George Washington University Hospital in Washington, D.C as an O R Nurse in the Operating Room until her retirement in 1984. She also, worked for SMTCCAC, Head start Program until 2005, which was her final retirement.

Inez enjoyed cooking, caring for others, find a word books, crossword puzzles, family gatherings, outside yard work, and spending time with her children and grandchildren.

Inez was a dedicated committed member of St. Ignatius Catholic Church where she devoted all of her time with the church outreach and as a Eucharist Minister until declining of her health.

Inez was the central source of support and stability for "the family". She was the "Matriarch" of the family, the root that held all the branches together.

Quietly on Saturday, April 4, 2020 at Medstar Southern Maryland Hospital Center, Clinton, Maryland, Inez Gertrude (Simms) Keys-Butler transitioned to eternal life.

Inez leaves to rejoice in her homegoing: John (Frances), Linda (David) Thomas, Vincent (George) Janice, Marie (Yvonne) Charles Early, Harrison, Sidney, Melvin, Brenda (Gail) Keys; Also, Melvin Myles, Elva, and Veverlyn. God-daughter Pasty (Pat) Williams and favorite niece, Cecelia (Baby Sally) Hill, fourteen Grandchildren, eighteen Great Grandchildren, and one Great Great Grandchild. One sister, Ruth Watson, Two brothers, Thomas Jr (Dorothy) and Sidney (Ethel Mae) Simms. In-laws, Thomas (Peggy), Carroll (Thea), Gary (Sylvia), Ruth, Sylvia M. and Jeffery Keys. A host of nieces, nephews, and cousins.

Inez was loved by her family, friends, and many people in the church community. She will be missed by all who knew her. She has earned her wings and stars in "Heaven".

Viewing, 10:00 a.m. until 6:00 p.m., Monday, April 13, 2020 in the Chapel of Thornton Funeral Home, P.A., 3439 Livingston Road, Indian Head, Maryland.

A Private (IMMEDIATE FAMILY ONLY) Mass of Christian Burial and Interment, Tuesday, April 14, 2020 at St. Ignatius Catholic Church, Chapel Point, Port Tobacco, Maryland.