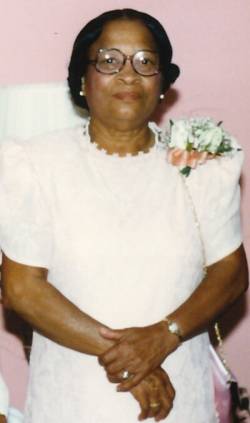 Irene Veronica (Simmons) Gray, lovingly known as Puddin, was the third youngest of six children born to Viola and Benjamin Simmons, Tuesday, November 22, 1921, in Indian Head Maryland.

She was a faithful and lifetime parishioner of St. Mary Star of the Sea Catholic Church. She was a very personable, loving and gentle person who was very dedicated to her church family. Irene was educated in the Charles County School System. She later met and married Charles Lorenzo Gray, August 1942. She was fortunate to be a stay at home Mom until her last child attended school. She decided to work part time for the Charles County Board of Education at Indian Head Elementary School in Indian Head as a cafeteria worker for almost 20 years until she retired. She loved helping children, always making sure they were all fed, sometimes using her money to pay for it. The children truly enjoyed her presence and the relationships she built while working there. She was a happy, fun-loving person with an unforgettable smile and laugh. She was a strong and wise woman who loved to pray and believed prayer changes things.

Irene's hobbies were gardening (planting flowers), fixing hair, playing dominoes, cooking meals, decorating, bingo, watching her soaps (General Hospital and One Life to Live) and she loved looking at old westerns with Jack Elam. She was extremely talented with painting ceramics with her late girlfriend, Mrs. Evelyn Posey. She was a member of the Lady's Sodality at St. Mary Star of the Sea, the American Legion-Randolph Furey Post 170, Ladies Auxiliary and the Charles County Farm Bureau. After attending Mass on Saturday evening, she loved going out to dinner with her husband Charles, trying all the different restaurants in the area. She also enjoyed taking a Sunday afternoon ride with Charles looking for different ceramic items and sightseeing. She adored cooking on the holidays for her family, always preparing a huge dinner.

Irene Veronica (Simmons) Gray, departed this life peacefully and went home to be with the Lord on Monday, April 6, 2020 at her home, surrounded by her loving and dedicated family.

She was pre-deceased by her parents, Viola and Benjamin Simmons, loving husband of 57 years, Lorenzo Charles Gray, two eldest sons, Charles Leon "Sonny" and Benjamin Morris "Benny Morris" and daughters-in-law, Linda and Lona.

Irene leaves to cherish her memories, five remaining children: John "Louis" Gray (Hope), Thomas "Tommy" Gray (Diane), Jerome "GeeGee" Gray, Judy Miller (Richard), and Joyce Fultz (Anthony); twelve grandchildren, twenty-three great-grandchildren, two great-great grandchildren and a host of nieces, nephews, and other relatives and friends.

Irene was a shining example of a Christian leader, devoted wife, beloved mother, nurturing grandmother, a wonderful great grandmother and the matriarch of her family. Her heart was pure and her desires were few. She only wanted to be a humble servant of the Lord and wanted her family and friends to experience the Lord as she did. Her spirit will continue to grace the lives of many for years to come.

Viewing, 11:00 a.m. to 12:30 p.m., Wednesday, April 15, 2020 at St. Mary Star of the Sea Catholic Church, 30 Mattingly Avenue, Indian Head, Maryland 20640. A Private Mass of Christian Burial will follow the Viewing (Immediate Family Only). Private Interment, Maryland Veterans Cemetery, Cheltenham, Maryland.