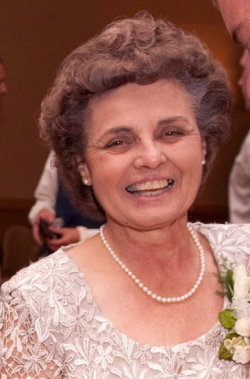 Dora Joan Kirby, 78, of Hollywood, Md., died of natural causes on April 6, 2020. After battling Alzheimer's for many years, she determined that she had done all she could do on this side of heaven, gave up her body and marched herself into the arms of Jesus to receive her heavenly crown.

Dora Joan was born to the late Paul Jones Thompson and Dorothy Beatrice Thompson on May 28, 1941, in Leonardtown, Md. She graduated from Leonardtown High School in 1959. She attended Eastern Nazarene College for 1 year before she was married in 1961.

She was preceded in death by her parents; former husband, John Calvin "J.C." Kirby, Jr.; and her sister, Linda June Thompson.

Dora is survived by her three children: Dedreia (Gary) Weslow of Pasadena, Md.; Jeff (Anna) Kirby of Hollywood, Md.; and Gaytha Kirby of Glen Burnie, Md.; six grandchildren and four great grandchildren with another due to arrive in June and siblings: Karen (Steve) Hoopengardner of Hollywood, Md., and Mendell (Karen) Thompson of Port Charlotte, FL.

She led a life well lived. Raised on Dodge Hill Farm in Hollywood, she lived her life wild and free — as most country girls do. She was active in the community and her church, Hollywood Church of the Nazarene, for all of her adult life.

Her many accomplishments include, but are not limited to, racing Go Karts, boat racing in the Powder Puff boat races, competing on a bowling team, playing softball in the Senior Olympics, and event planning and coordination. She was also the former President of the Kiwanis and went on to serve as Lieutenant Governor for many years. She actively participated in the Elks Lodge, Southern Maryland Boat Club, Homemakers Association, St. Mary's County Fair board, and more committees than we can count at Hollywood Church of the Nazarene.

Dora was a successful businesswoman who owned Dora's Floral Boutique and was an accomplished Home Interiors Decorator for many years. She was head of housekeeping at St. Mary's College, was a lead hostess at the Belvedere restaurant, and was a census volunteer and election judge in her spare time. She was passionate about car racing, roller skating, antiquing, flea market picking, and going into the hair salon for her weekly pampering.

She had a love for animals of all shapes and sizes and cared for no less than 25 dogs, cats, and goats over her lifetime.

Whether she was climbing fences, helping her daddy tend the farm, or dressed to the nines for a special event, Dora lived and loved life to the fullest. She always had a song in her heart and a pep in her step. When music was playing, she would sing along, and you couldn't keep her off the dance floor — whether she had a partner or not. She had a special love for "her man Elvis Presley" and was frequently asked to sing any Patsy Cline song.

She left a wonderful legacy of making every day count. She was so proud of her family: she enjoyed watching her grandsons play baseball & softball, her granddaughters sing, and her one granddaughter compete with the Maryland Twisters for Special Olympics. She bragged on their multiple unique talents and abilities any chance she could. She always beamed when any one of her children, grandchildren, or great grandchildren walked into the room.

A Celebration of Life service will be held at a later date; further information to come. Please follow Hollywood Church of the Nazarene on Facebook (facebook.com/hollywoodnazarene) or call/text Gaytha at 443-848-1806 to be notified when the event is scheduled. The family requests that floral remembrances be held at this time and instead given for the Celebration of Life service. In lieu of flowers, donations may be made to the Hollywood Church of the Nazarene in her memory.