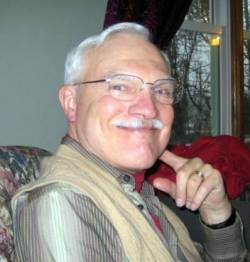 Jay Arthur Rottier (June 26, 1939-March 28, 2020) was born and raised in Fremont, Michigan, the only child of Arthur John Rottier and Henderika Anelza Ensing. Much of his extended family still resides in Michigan.

As a youngster, Jay received his early education in a one room schoolhouse in rural Michigan. His dad was badly injured when Jay was eight years old and Jay stepped in to help on the farm as soon as he was old enough. He first drove a tractor on the farm at age 12 with supervision from his uncles, and was responsible for preparing the fields for planting and harvesting until high school graduation.

Jay graduated as an honor student from Fremont High School in 1957 and was awarded a Naval ROTC scholarship from Purdue University. He faithfully served in the United States Navy for ten years and was honorably discharged from service in 1971, having participated in such military actions as the naval blockade during Cuban Missile Crisis and the Vietnam Conflict.

Jay joined federal government service in 1973 and moved from San Diego, California to Waldorf, Maryland for a job in civilian personnel at Andrews Air Force Base. In 1980, he took an overseas position with the U.S. Air Force in Mildenhall, England and later in Aviano, Italy until 1987. He worked for the Department of the Navy and the U.S. Coast Guard as a civilian from 1988 until his retirement. Jay was a distinguished federal employee for 43 years, having received several awards for his work as a Labor and Employee Relations Specialist. He was awarded the Distinguished Career Service Award for meritorious service from the United States Coast Guard on his retirement in 2004. Hobbies Jay enjoyed included traveling, skiing, golfing, and duplicate bridge. He was a member of St. Paul's Episcopal Church in Waldorf, the Camp Springs Duplicate Bridge Club, and the White Plains Senior Fellowship Golf League. Jay Rottier was a wonderful husband, father, and grandfather who was very proud of his children's and grandchildren's accomplishments. He was happily married to Kathleen Farley (née Smith) from 1990 until his death and is survived by two children, Amy Rottier and Alexander Rottier from his marriage to Elizabeth Nelms Rottier (d. 1988), and four grandchildren, Liam and Brenna Donovan, Sophia and Adrian Rottier.

Jay will be laid to eternal rest in Trinity Memorial Gardens in Waldorf, Maryland. Prayers will be offered by Mother Maria Kane of St. Paul's Episcopal Church. A celebration of Jay's life will be deferred due to the ongoing coronavirus pandemic. Condolences and shared stories may be added to this page and sent to jay.rottier.memories@gmail.com. The family requests that donations, in lieu of flowers, may be made to the Parkinson's Foundation or the American Cancer Society.

Please copy and paste https://www.icloud.com/sharedalbum/#B0RGY8gBYGxvNkH into a browser to see an album in remembrance of Jay

If you wish to be included in an email list regarding future plans, please email jay.rottier.memories@gmail.com.