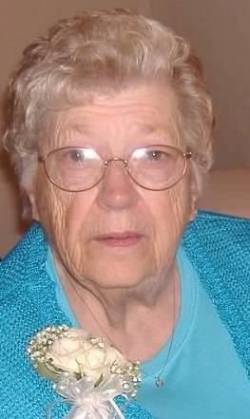 Hazel Iva "Jayne" Liston, 98 of Hollywood, Maryland passed away on April 6, 2020. She was born on March 1, 1922 in Joplin, Missouri to the late Glen Jake Swan and Lola Myrtle Rusk. She is preceded in death by two brothers, James Swan (Madge) and Robert Swan (Lorraine - deceased). She is survived by one brother, Bill Swan (Clinta – deceased) of Galena, Kansas.

She married the late Richard Edward Liston on Thanksgiving Eve in 1947 in Washington, D.C. and together they had 3 children, James Thomas Liston (Rose), John Joseph Liston (Linda) and Mary Susan-Carol Alexander (Ronnie – deceased).

Along with her children she is survived by 9 grandchildren, James Thomas Liston, Jr. (Betsy), Toni Liston (AJ Berberian), Jonathan Liston (Kristen), Justin Liston (Jesica McLane), Elizabeth Holt (Anthony), Jacqueline Schrader, Cynthia Lloyd, Emily Liston (Donald Longerbeam), Matthew Liston (Mattie Stull) and many great-grandchildren who all lovingly referred to her as "Mamoo". Hazel is also survived by many nieces and nephews living across the United States.

Hazel graduated from Galena High School in Galena, Kansas and business college in Joplin, Missouri. She worked at a hospital in Joplin, Missouri transcribing doctors notes from surgery before taking the federal government civil service test and moving from Galena, KS to Washington, D.C. to work as a Secretary at the Pentagon. She briefly worked for the federal government in New York City, NY before returning to Washington, D.C. to work at the Naval Research Laboratory. She retired in the late 70's from the federal government.

In 1975 Hazel and her husband built a waterfront home and moved from PG County to St. Mary's County. After the death of her husband she began working at St. Mary's Hospital in the Admitting Department leading to a second retirement in the 90's. Hazel truly enjoyed working and waking each day with a goal and a purpose.

Hazel was fiercely independent and loved spending time with her family, cooking, working crossword puzzles, crocheting afghans for all her family and friends, making needle point artwork, sewing, and ceramics which she entered in the St. Mary's County Fair. At one point she made all her own clothes for work. She was an avid traveler, having traveled over most of the United States and enjoyed life to the fullest.

She was also blessed to have amazing caretakers, Frannie Evans, Cindy Brooks, Maggie Evans, Lizzie Evans, Sharon Woodburn, and Timmor Sutton who assisted her in her later years of life. Hazel was fortunate enough to live her final days in her home on the water in Hollywood. She loved stuffed ham, cooking crabs, picking and eating crabs outside on the picnic table, and after the weekends picking all the remaining crabs and making crab imperial, crab cakes, and crab soup.

A private burial will take place at the Immaculate Heart of Mary Cemetery in Lexington Park, Maryland. Honorary pallbearers will be Tommy Liston, Jr., Jonathan Liston, Justin Liston, Matthew Liston, AJ Berberian and Anthony Holt.

In lieu of flowers, donations may be made to Hospice of St. Mary's County.