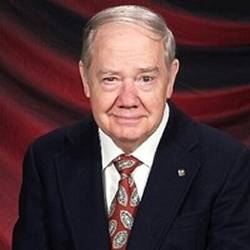 Francis M. Greenwell, 83 years of Leonardtown, Md., on Saturday, April 4 left for his final journey to heaven in the arms of his loving wife, Pat. He was born in Leonardtown, Md. on December 11, 1936 to the late James C. and Mary Genevieve Norris Greenwell of Leonardtown, Md.

After graduation from St. Mary's Academy he attended St. John's College in Annapolis, Md. In 1957 he secured a position at the Smithsonian Institution where he worked for 43 years and served as Chief Taxidermist and Conservator for several of those years. His first task at the Smithsonian Institution was to assist with the mounting of the African Bush elephant in the Rotunda.

During his time at the Smithsonian he traveled to various parts of the world and 46 of the 50 States in the US collecting scientific specimens for research. While working at the Smithsonian he attended the Department of Agriculture Graduate School, Washington, DC and George Mason University, Fairfax, Va.

He retired in 1999 from the Smithsonian Institution and continued to pursue his professional photography career His photographs have been published nationally and internationally as well as being exhibited in several areas of the United States. For the last 30 years he and his wife appeared in period costumes at Historic Sotterley Plantation in Hollywood, Md. For several years he has been a member of "The Friends of Newtowne Manor House Steering Committee for the restoration of the Manor house and a member of St. Mary's County Historical Society. He was a long time member of the choir at St. Francis Zavier Church.

Frank loved his family dearly and cherished all the fun activities that the family had over the years. He felt it was important to be an uncle who was involved with all or any of the activities that he felt was important to his nieces, nephews and godchildren...

He is survived by his devoted wife, Pat. They have enjoyed fifty-seven happy years together. Frank is also survived by six sisters and one brother: JoAnne Choporis of Leonardtown, Md., Mary Genevieve Norris, Leonardtown, Md., Thomas Jefferson Greenwell (Lois), Nellysford, VA, Sybil Costanzo, California, Md., Carole Wible (Joe), Leonardtown, Md., Elizabeth Matthews (George), Williamsburg, VA. He is also survived by a myriad number of loving nieces, nephews and godchildren. He was preceded in death by his siblings: Mary Combs McCarthy, Kitty Lee Radford, James C. Greenwell and Benedict Greenwell.

Frank loved nature and he hoped that through his photography people would appreciate the beauty of nature and take the time to stop and smell the flowers or listen to the beautiful birds singing that God had created.

Donations may be made to St. Francis Xavier Church for the Newtown Manor House, 21370 Newtowne Neck Road, Leonardtown, Md. 20650 or Historic Sotterley Plantation, P.O. Box 67, Hollywood, Md. 20636

Due to the current environment a funeral/memorial mass will be held at a later date.

Condolences to the family may be made at www.brinsfieldfuneral.com.

Arrangements made by Brinsfield Funeral Home.