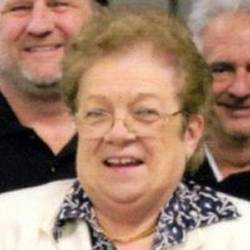 Barbara Ann "Bobbie" Herbert, 73 of Hughesville, Md. passed away at University of Maryland Charles Regional Medical Center on Saturday, April 4, 2020.

Bobbie was born on September 9, 1946 in La Plata, Maryland to the late Davis Franklin and Grace (Rice) Franklin.

She met her best friend and forever love Francis Cleveland Herbert and he changed her destiny. Together they spent over fifty-two (52) years in wedded bliss. To find a true love is a blessing and if you knew them, you know they were meant to be together.

Bobbie worked a few different jobs throughout her life. She worked for SMECO, Maryland National Bank and then after a short hiatus being a homemaker, she went to work at Tidewater Pharmacy in Mechanicsville. She loved going to work and chatting with the customers. She had an infectious smile and her laughter made those around her laugh.

She was a wonderful woman who loved openly and cherished her husband, family and friends above all else. Bobbie was a woman of many talents and grew the most beautiful flowers in her gardens. She planted them to last for the year, painstaking tending them to make sure she kept blooms throughout the year. She loved them all but her beautiful red roses always were her top priority. Bobbie was a talented painter and she left behind beautiful works of art for her husband to cherish. When she wasn't outside in her gardens, surrounded by her flowers and cats, Bobbie enjoyed shopping and she prided herself on being a fashionista. She had the perfect outfit for every occasion.

Bobbie loved to ride around in her and Francis' cars and when time allowed she enjoyed traveling into the mountains. She found great peace in the beauty and majesty of the Shenandoah Mountains.

To know Bobbie was to know a kind, loving and beautiful soul. She will be missed by many, but now as much as her husband and family. As you see the flowers bloom bright and cheerful under the sunshine know it is Bobbie sending you a smile from above.

Bobbie is survived by her husband, Francis Cleveland Herbert; one brother, David Franklin of Newburg, Md. and many nieces and nephews. She was preceded in death by her parents.

All services will be private at this time.

Condolences to the family may be made at www.brinsfieldfuneral.com

Arrangements by the Brinsfield Funeral Home & Crematory, P.A., Charlotte Hall, Md.