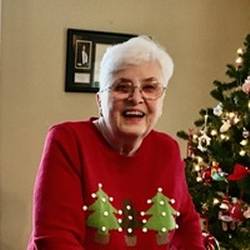 Suzanne Latta Shaw, 74, of Charlotte Hall, Md. departed this life on Friday, April 3, 2020, at the Hospice House in Callaway, Md. surrounded by her loving family.

Suzanne was born on November 20, 1945 in Martinsville, Indiana. She was the loving daughter of the late Jack P. Latta and Anamae (Woods) Latta.

She married the love her life and best friend, Jerry W. Shaw and they celebrated over fifty (50) years of wedded bliss before his passing in 2016. Their love grew each year and their family knows they are now reunited again in the heavenly skies.

A woman who worked as a nurse to support her family, Suzanne was a caring and compassionate caregiver. She loved dedicating her life to protecting and caring for her community. When she wasn't working, she enjoyed travel. She had a dream to visit every state and almost succeeded. With only a few places left on her bucket list, you can bet she has Jerry by the hand and they are visiting them all with the greatest view.

Whether you knew her as Suzanne, Mom, or Mimi you know she was a devoted wife, mother, grandmother and friend to all. She was a wonderful woman who loved her family. One of her favorite things to do was to head south to the Outer Banks, NC and sit back watching her children and grandchildren run across the sand and splash in the ocean. The next time you find yourself sitting on the shore and the waves lapping at your feet, know Suzanne is sitting with you enjoying the view too.

She is survived by her loving children, Brian Shaw of Fair Hill, Md., Jeffrey Shaw (Denise) of Leonardtown, Md. and daughter-in-law, Donna Shaw of Georgia; five (5) grandchildren, Rachel, Jacob, Sarah, Erin and Josh. She is also survived by her sister, Jean Ellen Maase (Phil) of Columbia, Md. and many extended family and friends. Along with her parents, she is preceded in death by her husband, Jerry W. Shaw, and her son, Timothy W. Shaw.

At this time, all services are private. The family will plan a Life Celebration at a later date.

In lieu of flowers, the family would request donations be made in Suzanne's name to Hospice of St. Mary's, Post Office Box 625, Leonardtown, Md. 20650 or Mt. Zion United Methodist Church, 27108 Mt. Zion Church Road, Mechanicsville, Md. 20659.

Condolences to the family may be made at www.brinsfieldfuneral.com

Arrangements by the Brinsfield Funeral Home & Crematory, P.A., Charlotte Hall, Md.