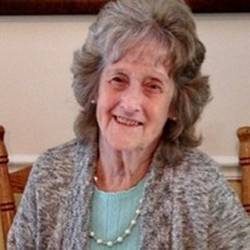 Hazel Regina Cullison McDaniel, 83 died on April 10, 2020, peacefully at her home in Mechanicsville, Md., with her family surrounding her.

Hazel was born on August 21, 1936, in Drayden, Md. She is preceded in death by her parents Emerick Francis Cullison and Catherine Regina (Sheehan) Cullison, and two children, Tami Medders and Terry York. She attended Catholic school at Little Flower in Great Mills, Md. She graduated high school from St. Michaels in Ridge Md.

She is survived by her husband, Lee William McDaniel of 40 years. Five Children- Cathy Gossett (Kim) Etowah, TN., Patty Hancock, Mechanicsville, Md., Glenda Fritz (Joe), La Plata, Md., Leo Bean, Valley Lee, Md., and Tim Bean (Mike) Rehoboth, DE. Hazel has 14 Grandchildren and 15 Great Grandchildren.

As a single parent, Hazel raised 5 children. She worked at the Naval Ordnance Station, Indian Head, Md. in the Extrusion plant. She also worked part time driving a school bus, and at the A&P grocery store. She sold home interiors in the evening. Hazel worked at the Halfway House as a waitress, and retired from St. Mary's Landing as a waitress and hostess. Hazel enjoyed talking to the many people and friends she met.

Hazel was devoted to her family. She enjoyed cooking, traveling, gardening, and visiting relatives and friends. She loved to sew, and made many of her children's clothes. She loved music and enjoyed going to dances with her husband Bill.

She was active in the Bryans Road Ladies Auxiliary. She was an officer in Optimist Club -4th District. She led many fundraising events to provide activities for children in need, and college scholarships for young adults. She was an active member of Our Lady of the Wayside Catholic Church. She taught religion classes to children and devoted many years volunteering in the food pantry.

A private family funeral Mass will be held at Our Lady of the Wayside Catholic Church. The interment will be held at the St. Georges Catholic cemetery in Valley Lee, Md. Donations can be made in Hazel's memory to Our Lady of the Wayside Food Pantry or Hospice of St. Mary's County.

Condolences can be made to the family at www.brinsfieldfuneral.com

All arrangements have been made at Brinsfield Funeral Home & Crematory, Charlotte Hall, Md.