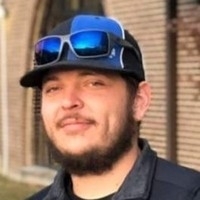 On Thursday, March 26, 2020, Colton Trent Perry, aka Coltman, loving father of Annalee Rae Perry, 10 months, passed away at the age of 24, in an automobile accident on Burnt Store Road in Hughesville, MD.

Born on March 29, 1995, he had a great childhood thanks to the love from parents, Jean Marie Perry and Earl Lewis Perry. He grew up on the Buckler Farm with his 3 brothers, Kelsey Hahn Perry, Garret Royce Perry and Riggins Bennett Perry, nothing was better than seeing these 4 together.

Colton was a true family man and had a kind soul. He had found his soulmate in Katie Hammonds and they have a beautiful little girl together, Annalee Rae Perry (10 months). Colton had a passion for hunting, fishing, four-wheeling and spending time with his best friends, Justin Miller and Evan Charles. He was extraordinary and nothing meant more to him than spending time with his family and friends.

It was hard to find a day when you did not see a big smile on his face, with that big dimple shining through. He made everyone's day better just with his presence and it truly shows how much he meant to everyone.

Colton was preceded in death by his grandparents, Norma and Vincent Buckler and James and Joan Perry, his uncle Buck Johnston, uncle Charlie Perry, aunt Pearl Ciampo, and uncle Kenny Sorenson. He is survived by his parents Earl and Jeannie Perry, 3 brothers, Kelsey, Garret and Riggins, many aunts and uncles, cousins, soulmate, Katie Hammonds, daughter Annalee Rae Perry, sister-in-law Ashley Perry and nephew Brycen Perry.

Due to COVID-19, a funeral will not be taking place. A Life Celebration will be held later in the summer. This obituary was lovingly written in Colton's honor by his brother, Kelsey. All Arrangements have been made by Brinsfield Funeral Home & Crematory, P.A., Charlotte Hall, MD.