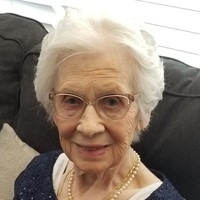 Kazimiera Zaprawa-Ostromecki, 94, of Waldorf, MD passed away peacefully at her home on Wednesday, March 25, 2020.

Born in Kostopol, Poland, in 1925, fourteen year old Kazimiera was taken from her home one night by Soviet troops, along with her five brothers and sisters, and parents, and herded into a box car, where they spent the next 10 days being transported to Witiunino, a logging gulag in Siberia. Despite being transported in an unheated box car, along with thousands of other Poles, they survived the trip to the Soviet detainment camp, huddling together to keep warm, and working and surviving the brutal Siberian weather. After several years, a negotiated release of Polish prisoners allowed them to be sent to a detainment camp near Teheran, Persia (now Iran), and eventually they were sent to India, where she and her siblings continued their education. In India, Kazimiera began nursing studies, which were then again interrupted when the family was granted passage to London. The Guziewicz family settled in London, and while there, she continued University studies in business.

She met her future husband, Jan Zaprawa-Ostromecki, while he was studying at Oxford, and they married in 1950. In 1952, they were granted passage to the USA, arriving in NYC, and settling across the Hudson River in Elizabeth, NJ. Living in "the port" section of Elizabeth with many other Polish emigres, she and her husband began working various jobs, while enrolling in night classes at local colleges and planning the future in their adopted homeland.

In 1954, Kazia and Jan welcomed a son, Christopher, and then in 1956, a daughter, Halina. In April 1958, they celebrated becoming naturalized US citizens. Both became active in many civic and cultural organizations, including the Kosciuszko Foundation in NYC, and the Polish University Club of NJ, where they were the first Polish born members, and eventual organization leaders.

Kazia worked as a bookkeeper at the Hayward MFG Group in Elizabeth, NJ, while remaining active at her church, and participating in the choir. The entire Guziewicz family had beautiful voices, and they all would attest to the fact that their collective love of music and the memories of their homeland is what helped them survive the terrible years they spent being shuttled around the world. Kazia was frequently asked to sing at social and cultural events in the New York metropolitan region, where her natural soprano voice allowed her to share the lovely music of Poland that she so vividly remembered. Eventually moving to Roselle Park and then Roselle, NJ, she eventually moved with her husband to Berlin, CT after retiring. This allowed them to both be near her brothers and sisters, who by this time were experiencing failing health, and continued to remain close to a vibrant Polish community and church in nearby New Britain.

She and Jan travelled the world in retirement, and were even blessed to have had a private audience with Saint John Paul II, when they accompanied two priest friends who had both studied with John Paul II in Krakow before WW II. After her husband's death in 2005, she remained in CT to help care for her siblings, but eventually, she relocated to Waldorf, MD, where she resided with her daughter, Halina, and her son-in-law, James.

Kazia loved her grandchildren and great-grandchildren, and would call them on special occasions, and sing to them by phone, doing this both in her adopted English, but also in Polish. Although a naturalized US citizen, she never forgot her Polish heritage, speaking fluently in both languages, and teaching the younger generation the beauty of her Polish language and music.

She will be dearly missed, but now rests in the grace of the Lord, with her beloved Janusz, her parents, and the brothers and sisters she loved so dearly.

Nigdy Nie Zagasnie!

Graveside services will be held on Tuesday, March 31, 2020 at The National Shrine of Our Lady of Czestochowa, 654 Ferry Road, Doylestown, PA 18901 at 12:00 p.m.