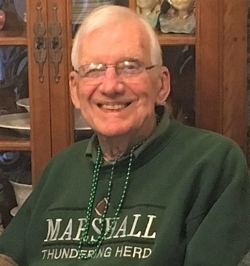 Jack Allen Grubber died on St. Patrick's Day, March 17, 2020, at his home in Great Mills. He was 89. Jack was the son of Michael J. Grubber and step-mother Jean Elaine (Jones) Grubber, and Sara Ellen (Allen) Bennett and step-father Joseph H. Bennett. He was born on May 13, 1930 in Moundsville, West Virginia. After graduating from Moundsville High School in 1948, he enlisted in the U.S. Navy for one year.

After his honorable discharge, he attended Marshall College (now Marshall University) in Huntington, West Virginia, graduating with a Bachelor of Science in General Engineering in 1953. Jack received a Bachelor of Science in Electronic Engineering from the University of Maryland in 1959 and a Master of Management Science from the U.S. Navy Post-Graduate School in 1976.

Jack was employed by the Naval Air Test Center at Patuxent River for 40 years. During his career, he worked in electronic warfare and reconnaissance working on projects such as enemy fire control. When he retired as the Technical Deputy of the Aviation Board of The Board of Inspection and Survey in 1992, he was awarded the U.S. Navy Civilian Superior Service Medal.

Jack's long tenure at Pax River was not expected. Seeing, in 1953, the very rural nature of Southern Maryland while enroute to Pax to start his job, he wondered how he had gotten into "this fix". He planned to stay only a few years and then transfer to a more urban government facility; however, he changed his mind in 1958 when he met Ann Hewitt. They were married on June 18, 1960 at Holy Face Church in Great Mills.

Jack was a life-long fan of the Marshall University Thundering Herd. He "bled green." His daughters endured many long car rides with static-filled AM radio broadcasts blasting at full volume—the better to catch one or two plays of a Herd game. Jack also collected postcards from his hometown and St. Mary's County. His postcard collection spawned two books: "Postcard History: Marshall County, WV" and "Postcard History: St. Mary's County."

Jack was a member of Immaculate Heart of Mary Catholic Church, and served at various times as a lector, Eucharistic minister, and parish council member. He also was a member of the St. Mary's County Elks Lodge #2092 and the Association of Old Crows.

Jack is survived by his wife, Ann; daughters, Janet Marie Grubber of Durham, NC and Karen Lynn Grubber of Arlington, VA; son-in-law, Dan Kane; and grandson, Jack Tyler Kane, as well as many in-laws, nieces, and nephews. Jack is also survived by a brother, Michael Jay Grubber, and his wife, Wendy, of Ormond Beach, Florida; a sister, Mary Jean (Grubber) Ramirez and her husband, John, of Denver, Colorado; and a sister-in-law, Toni Bennett, of Denver, CO. He was preceded in death by his parents, step-parents, brother Larry Bennett, and an infant sister, Joyce Ann Grubber.

Due to the coronavirus pandemic, all services will be private. In lieu of flowers, memorial contributions may be made to the Marshall University Foundation, Inc.–Jack Allen Grubber Endowed Scholarship, 519 John Marshall Dr., Huntington, WV 25703 or you can raise a glass to Jack and toast his good and happy life.