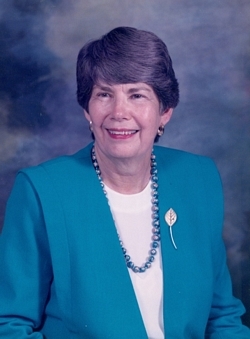 Emily Gantt Bourne Hyde, 90, passed away March 17, 2020 at the Hermitage in Solomons. She was born May 11, 1929 to Edna L. (Kemp) and Thomas J. Bourne at the original Calvert Memorial Hospital, which is now the Calvert County Sheriff's Department. Emily and her sister Catherine were raised on their family farm in Chaneyville. She attended Fairview Elementary School and Calvert County High School, graduating in 1946 as the Valedictorian of her class. Emily then attended Salisbury State Teacher's College and graduated in 1950 with a Bachelor's Degree in Teaching and would later obtain her Master's Degree from the University of Maryland.

Shortly after graduation, Emily married her roommate's brother, Louis S. Hyde, Jr. of Charles County. They later moved to Prince George's County so Emily could teach and Louis could work in the construction industry. In 1969 they built a home and moved back to the family farm. Emily also returned to her home church, All Saints Episcopal in Sunderland, where she was a dedicated and active member, and was the first Female Senior Warden of the church, as well as a member of the altar guild and vestry. She also taught kindergarten at the church for several years.

Emily was a member of The Daughters of the American Revolution, a board member of Calvert County Nursing Center, and was involved in judging history fairs. Following her retirement, Emily tutored many young people in reading, and her family would often hear people say "your Mama taught me how to read". In 1976 she had the family farm deemed a Bicentennial Farm and it remains in the family to this day. Emily enjoyed working on the farm, planting and growing tobacco, family dinners and picnics, and celebrating holidays and birthdays. She moved to the Hermitage in Solomons on March 17, 2017 and was lovingly cared for by the "family".

Emily was preceded in death by her husband Louis S. Hyde, Jr. in 2009. She is survived by her sons Louis Hyde III (Evelyn) of Fairhaven, Thomas Hyde (Martha) of Owings, Gary Hyde (Carla) of Italy, and Joseph Hyde (Melissa) of Owings, grandchildren Jeffrey Hyde (Brigitte) of Glenwood, Bonnie Hyde of Silver Spring, Emily (Matthew) Gilcrest of Prince Frederick, Allison Hyde of Prince Frederick, Amanda (Daniel) Carver of Huntingtown, Samantha Hyde of Mebane, NC and Louis and John Hyde of Italy, great-grandchildren Brooklyn and Ryan Gilcrest and Andrew and Alexander Carver, and her sister Catherine Bourne Grover of Solomons, MD.

In lieu of flowers, expressions of sympathy in Emily's name may be made to All Saints Church Cemetery Fund. Funeral Services are private. Arrangements by Rausch Funeral Home.