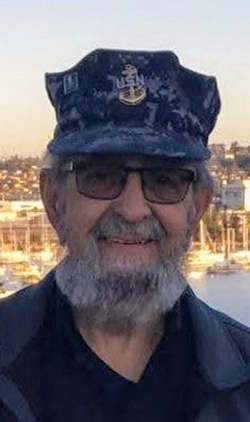 DPC Richard Henry "Dickie" LaBarge, USN (Ret.), 78, of Lexington Park, MD died on March 13, 2020 at his home. He was born on December 4, 1941 in Tupper Lake, NY to the late Henry LaBarge and Gertrude Peets LaBarge.

In 1960 Dickie proudly enlisted in the United States Navy where he proudly served his country until his Honorable Discharge in September 1980 as a Chief. On June 10, 1961, Dickie married his beloved wife, Pennie Lee LaBarge in Plattsburgh, NY. Together they celebrated over 57 wonderful years together before her passing in August 2018. After retiring from the Navy, he continued working as a consultant to the Navy for the next 40 years. He would have celebrated 60 years of service to the Navy in June 2020.

He and his wife enjoyed travelling during his Navy career and then in retirement, especially taking cruises throughout the Caribbean. He was a skilled handyman and enjoyed building sheds, chicken coops and gazebo's. He was handy with tools and fixed many things. He found peace in being outside, where he could build things, fish, and travel in his new RV. He also enjoyed dancing, league bowling, and shooting pool. He is a member of the Knights of Columbus, the Chief's Club, the VFW, and Immaculate Heart of Mary.

Dickie is survived by his daughters, Tammie LaBarge Holt (Jeffrey) of Buena Vista, VA and Deborah LaBarge Linehan (Thomas) of Littletown, PA; his sister, Barbara Schiff of Rock Hill, SC; his grandchildren: David Russell Jr. (Jayme), Kimberly Russell (Troye Owens), Nicholas Linehan (Tara), Melissa Linehan, Joelle Watson (Leo) and Jeremy Linehan (Gabriella); his great grandchildren: Karmen Donaldson, Christian Russell, Gavin Linehan, Piper Linehan, Oliver Linehan and another one on the way; and many extended family and friends. In addition to his parents and wife, he is preceded in death by his children, Timothy Richard LaBarge and Amy Michelle LaBarge.

Family will receive friends on March 20, 2020 from 5:00-8:00 PM, with a Memorial Life Celebration Service at 7:00 PM, at Brinsfield Funeral Home, 22955 Hollywood Road, Leonardtown, MD 20650. Interment will happen at a later date at Arlington National Cemetery. Memorial contributions may be made to Pets for Vets, P.O. Box 10860, Wilmington, NC 28404 or online at: Pets For Vets. Arrangements by the Brinsfield Funeral Home, PA.