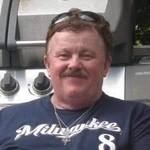 John Thomas Hurley "Tom", 72, of Mechanicsville, MD passed away on March 12, 2020 in Charlotte Hall, MD. Born on July 29, 1947 in Buffalo, NY he was the son of the late Katherine Donlon Hurley and James Aloysius Hurley. Tom was the beloved husband of Elaine Beatrice Hurley of 50 years, and whom he married on June 7, 1969 in Milwaukee, WI.

Tom is survived by his children Jon Hurley (Jeanine) of Belpre, OH, Sheri Kaylor of Mechanicsville, MD, Patrick Hurley (Kari) of Fall Church, VA, and Kelly Hurley of Mechanicsville, MD. Along with 9 grandchildren Connor, Trevor, Brennen, Hope, Brayden, Simon, Skylar, Bryce, Addison and her brother George Goetzmann of Buffalo, NY.

He graduated from Kenmore East in 1965, and earned his Masters fromCentral Michigan in 1981. Tom moved from Prince Georges County, MD in September, 1977. He worked was a Sr. Industrial Security Rep for the Department of Defense for 20 plus years, retiring December 2003.

Tom served in the United States Navy from May, 1966 to February, 1970. While serving in the Navy he earned the National Defense Service Medal, and Viet-Nam Service Medal with bronze star. Tom served aboard the USS Forrestal during the time it caught on fire in Vietnam in 1967, for those of you who knew Tom he told you, "I fought the fire for 24 hours, repaired the ship for 24 hours, lost 134 shipmates all on my 20th birthday."

Tom touched the lives of many in St. Mary's County, MD as a soccer coach. Kids and adults alike appreciated the time, energy and love he gave to the kids and the game. His work with the Mechanicsville Optimist Club also impacted the community in positive ways. He was an active and founding member of Shepherd of the Bay Lutheran Church. For the past 7 years he has been a resident of the Charlotte Hall Veterans Home. He was treated like family by a staff who provided excellent care which was a tremendous blessing to him and his family.

Tom will be remembered for all the positive ways he impacted many of our lives with is jovial sense of humor, his dedication to his family and community, and his love for Jesus. Although Alzheimer's may of robbed his family and friends of the man he used to be, it cannot take away our wonderful memories of him.

The family will have a Funeral Service at Shepherd of the Bay Lutheran Church 9463 H.G. Trueman Rd, Lusby, MD 20657 on Saturday, March 21, 2020 at 12 PM with Pastor Josh Olson officiating. Interment will be private.