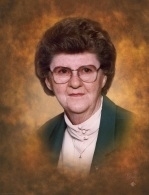 Vivian Marie Ridgell Barnes, 89, of Ridge, Maryland passed away on March 9, 2020 in Ridge, Maryland. Born on January 5, 1931 in Ridge, Maryland, she was the loving daughter of the late Florence C. Ridgell and Ernest F. Ridgell. Vivian was the loving wife of the late Carl B. Barnes whom she married on December 27, 1948 at St. Michael's Church in Ridge, Maryland and who preceded her in death on August 8, 2010.

Vivian is survived by her children Shirley O'Connor (Tim) of Connecticut, Barbara Jean Gray (Jim) of Ridge, Maryland, Veronica Vallandingham (Dale) of St. Inigoes, Maryland, Theresa Queal (Ron) of Fort White, Florida, Cecilia Graham (Floyd) of Great Mills, Maryland, 12 grandchildren and 19 great-grandchildren. She was preceded in death by her siblings Inez Parson, Ernest Ridgell, Jr., Edna Larrick, Betty Lou Yarber, and Vince Ridgell.

She was a lifelong St. Mary's County, MD resident. Vivian went to St. Michael's School. She was a home maker, a member of Ladies of Charity, and an active member of St. Michael's Church. Her hobbies included sewing, gardening, woodworking, painting, crocheting, crabbing, and fishing.

A Mass of Christian Burial will be celebrated on Tuesday, March 17, 2020 at 10:30 AM in St. Michael's Catholic Church, Ridge, MD with Father Peter Giovanoni officiating. Interment will follow in the Church Cemetery. Serving as pallbearers will be Roger Ridgell, Bobby Spalding, Cody Graham, Bo Vallandingham, Ray Yarber, and Brian Lonkert. Serving as honorary pallbearer will be Branden Welday. In lieu of flowers contributions may be made to the Alzheimer's Association, 10665 Stanhaven Place #3115, White Plains, Maryland 20695.