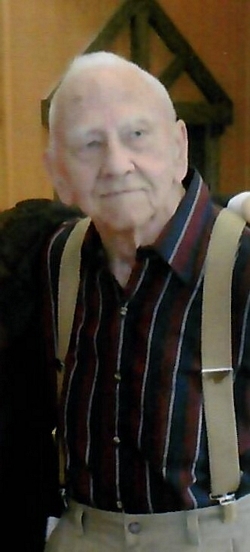 Donald Miles "Don" McDermid, 92, of Chesapeake Beach passed away March 10, 2020 at his home surrounded by family. He was born August 28, 1927 in Washington, D.C. to George Miles and Sadie Agnes Bottomley McDermid. Don was raised in D.C. and graduated from Eastern High School. He joined the United States Army on October 11, 1950 and was honorably discharged on October 11, 1952, having obtained the Occupational Medal for his service in Germany.

Don married Anna Jeanne Spaight on March 2, 1952. Anna passed away in 1997 and Don married Rita Mae Grierson on July 3, 1999. He was employed as a draftsman with Washington Gas Company for over 40 years. Don was an active member of the Potomac River Jazz Club, North Beach Union Church, and the Stallings-Williams American Legion Post 206 in Chesapeake Beach.

Don had a great love for knowledge and Chesapeake Bay history. On August 12, 1955 a schooner named The Marvel sunk off the shore of North Beach and Don and other members of the community helped rescue survivors and provided care for those who were injured. Don had the ability to fix everything, he enjoyed working on cars, going to the beach, fishing, and being on the water.

Don was preceded in death by his first spouse Anna Jeanne McDermid. He is survived by his current spouse Rita Mae McDermid of Chesapeake Beach, daughters Pamela Hartman and her husband Joseph of Laurel and April McDermid of Lanham, stepchildren Raymond Grierson of North Beach, Edward "Eddie" Grierson of North Beach, Nancy Grierson Baker and her husband Matthew of Westerville, OH, and Veronica "Ronnie" Grierson Oursler and her husband Mark of North Beach. He is also survived by 11 grandchildren and 12 great-grandchildren. Arrangements by Rausch Funeral Home.