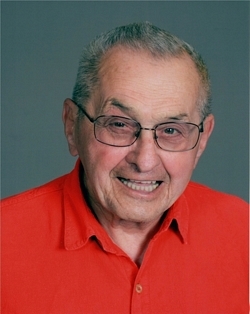 Daniel Ray Hinz, 89, of Solomons, MD died peacefully on March 6, 2020 at his home. He was born on May 16, 1930 in Pittsburgh, PA to the late Anna Benko Hinz and Frank Hinz.

Danny grew up in Roscoe, PA. He started playing the accordion a very young age, appearing as child guest soloist on the Ted Mack Amateur Hour at only 10 years old. He played accordion all through his adult life as a professional musician performing in the Washington, DC area under leader Lee Maxfield. He was a life-time member of the National Federation of Musicians. He performed at many civic association entertainments, community activities, and in later years played with wife Barbara for church, sang in church choirs, community chorus works, and ENCORE.

Danny was drafted into the Army in 1952, serving in Germany for 2 years where he performed with the Knaves At Night band heard world-wide weekly on the Armed Services Network, Nurenberg, Germany. They even performed with renowned "Eddie Fisher." He was honorably discharged in 1954.

His working career began in Clairton, PA as payroll clerk for Pittsburgh Steel, but when that company downsized, he and his wife Donna moved to Charles County where he began his career with the federal government as a dedicated procurement analyst. He retired from federal service in 1989. He was a volunteer fireman in Charles County and a regular blood donor for the American Red Cross.

Donna, his wife of 36 years, died in 2003. He remarried Barbara Lorton in 2014, and has continued living in St. Clements Shore all through those years. He has remained an active member, officer of the SCSCA-civic association, serving as officer, project man, etc. He received the Governor's citation of honor in his extensive Office on Aging work. His children are Kathi Lynn Payne (Art Payne) and Darryl Weaver; grandchildren, Michael (Deborah) and Joey. Through his marriage with Barbara, Danny has delighted in becoming a cherished member of Barbara's extended family-Beth and Paul Wagner, Zack, Nick, Emma and Mark Lorton. They have enjoyed travel through many Roads Scholar classes, practiced yoga at the Lofler and Garvey Centers, remaining active in vocal music (Encore, St. Mary's Singers, Trinity choir, and Vesper Choir during their latter years.

Danny is a member of Trinity United Methodist Church in Prince Frederick and the Asbury "Vespers" Church under Pastor Charles Harrell. Danny and Barbara moved to Asbury Solomons in 2018. He wishes for no flowers, please, but asks that any memorial contribution go to Solomons Volunteer Rescue Squad, P.O. Box 189, Solomons, MD 20688, Hospice of Calvert County, P.O. Box 838, Prince Frederick, MD 20678, or Trinity Church, 90 Church Street, Prince Frederick, MD 20678.

A Memorial Service will be held at a date to be determined later. Inurnment will be held at a later date at Monongahela Cemetery, 800 Country Club Road, Monongahela, PA 15063.