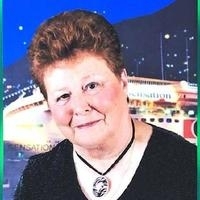 Catherine Josephine "Tucker" Kreft, 81, of Waldorf, MD passed away peacefully at her home on Friday, March 6, 2020. Tucker was born on December 19, 1938 in Waldorf, Maryland on her family farm, to the late Bernard Herman Vennemann and Mabel Magdaleen Cusick Vennemann. Tucker met her best friend and forever love, Anthony John Kreft and they spent over thirty-eight (38) blissful years together before his passing in 1995.

She worked as a banker for many years and climbed the ladder to eventually become the vice-president. She was a personable, compassionate and conscientious co-worker and at the time of her retirement she knew in her heart she'd made many lifelong friendships.

She was a wonderful woman who loved her family and community. Spending time outdoors on her farm brought her peace. She enjoyed all her animals, but her dog Louis was her sidekick. Tucker also loved to travel and found Washington State beautiful. Her bright smile and quick wit will be dearly missed. To know Tucker was to know a kind, loving soul. Memories of her inherent joy will last a lifetime for her family.

Tucker is survived by her siblings, John Leo Venneman, Donald Joseph Vennemann, David Allen Vennemann, Mary Elizabeth Bassford, Patricia Ann Tayman, Doris Jeanette O'Bier, Jean Marie Richardson, and Jane Theresa Hobson. She is also survived by her dear friend, Beverly Wood and her children, which Tucker cherished as her own grandchildren, Victoria, Will and John Fitzgerald and many nieces, nephews and extended family. Along with her parents, she was preceded in death by her husband, Anthony John Kreft; and brothers, Bernard Edward Vennemann, and Francis Alexander Vennemann.

A Life Celebration will be held at a later date for her family and friends. Interment will be private. In lieu of flowers, the family would that donations be made to Charles County Hospice, 2505 Davis Road, Waldorf, MD 20603. Arrangements by the Brinsfield Funeral Home & Crematory, P.A., Charlotte Hall, MD.