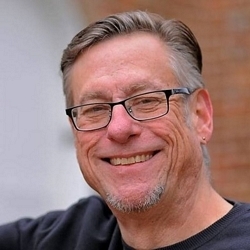 David Nicholas Vukmer, 58, of Georgetown, South Carolina (formerly of Leonardtown, MD) passed away on Thursday, February 29, 2020 after a tragic car accident. He was born on May 23, 1961 in Meadville, PA to Nick Vukmer and Judith Cole Vukmer of Leonardtown, MD.

Dave is a 1979 graduate of Great Mills High School and a 1985 graduate of Salisbury University. He was employed as a videographer for his entire career, which began at WBOC in Salisbury, then he was employed by the U.S. Senate and then at NBC Universal from 1997 to 2016. He also ran his own production company, MozAir Productions.

Dave was a passionate musician and played the bass guitar his entire life. He was in numerous bands over the years but the most impactful was the Shatners, performing in the Baltimore area in the mid-90s. Dave was also an avid largemouth bass fisherman and fished competitively throughout the early 2000s. Dave's son, Nick, has fond memories from his youth of being on the water and fishing with his dad.

In addition to his parents, Dave is also survived by his son, Nicholas Sydney Vukmer of Columbia, SC; his siblings, Joanna Schwab (Bill) of Leonardtown, MD, Barry Vukmer (Denise) of Leonardtown, MD; his nieces and nephews: Erica Morris of California, MD, Michael Norris (Devin) of Richmond, VA, John Norris (Hayley) of Warsaw, VA, Billy Norris of Leonardtown, MD, and Jacqueline Benefield (Cale) of Centerville, OH; his great nieces and nephews: Christopher Norris, Emmie Norris, Gage Norris, Santanah Norris, and Eleanor Benefield; and many extended family and friends. He is preceded in death by his niece, Emily Morris.

Family will receive friends on Friday, March 6, 2020 from 10:00 a.m. to 12:00 p.m., with a Memorial Service by Pastor Todd Crofford at 12:00 p.m., at Brinsfield Funeral Home, P.A., 22955 Hollywood Road, Leonardtown, MD 20650. Interment will be private. Arrangements by the Brinsfield Funeral Home, P.A.