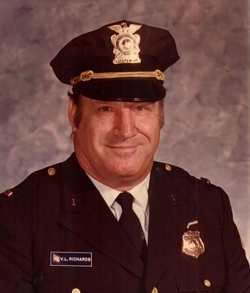 Vincent Lear Richards, born June 28, 1930 to the late Edward and Clara Richards. Vincent was born in Washington DC and lived in Waldorf, Maryland at the time of his death. Vincent went home to be with the lord on February 28, 2020 surrounded by family and many of his Veteran brothers and sisters at the Charlotte Hall Veterans Home.

Vincent married Linda Youngblood Richards, his longtime best friend and love in 2003, Linda preceded him in death in 2006. Vincent is survived by his brother Ralph "Pete" Richards of Waldorf Maryland and many nieces, nephews and friends (especially his favorite nephew "Uncle Georgie" George Witczak of Chesterfield, South Carolina). He was preceded in death by his loving sisters Emma and Mae. Brothers Walter, Raymond, Melvin and Robert. He served in the US Army during the Korean War where he received the Purple Heart. After his time serving his country, he then serviced the Nation's Capital as a member of the Metropolitan Police Department.

Vincent had a passion for community service, After serving both his country and community Vincent enjoyed listening to his police/fire scanners while drinking a hot cup of tea, while eating his shrimp or Popeyes chicken. Vincent loved his Wendy's frosty.

Viewing will be held at Huntt Funeral Home at 3035 Old Washington Rd. Waldorf, MD 20601on Thursday, March 5, 2020 from 11 to 1:30. Followed by the service from 1:30 to 2:00. Interment will follow at the Maryland Veterans Cemetery located at 11301 Crain Hwy. Cheltenham, Md 20623.