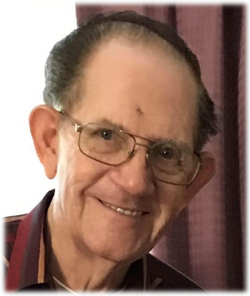 William "Bill" Kenneth Smythers went home to be with the Lord on Monday, February 24, 2020 in Waldorf, MD. He was surrounded by his family. Bill was born in Wythe County, VA on June 21, 1934 to the late William Anderson Smythers and Noon Davis. He was later fostered by Mr. and Mrs. Stewart.

In 1954, he married the late Mildred "Millie" Jones (Smythers) and they spent 49 wonderful years together. Bill worked for the Charles County Board of Education for 23 years and retired in 2010. Before that, he was a well-known mechanic. He loved working with his hands and there wasn't anything he couldn't fix. He often took trips to see his family in the mountains of Virginia, the place he loved most.

In addition to his wife and parents, he is preceded in death by his sisters Lorene Arnold, Alene Williams and Edna Pickett and brothers Vivian Smythers and Billy Smythers. He is survived by his brothers Jimmy Smythers and Dennis Jones, son Ronald E. Smythers (Nancy) of La Plata, daughters Myra G. Burch (Lee Manis) of Hollywood and Kimberly A. Finamore (Anthony) of Charlotte Hall, grandchildren Ronald C. Smythers (Lindsey), Kaycie Penn (Jason), Brian Jones, Nicholas Burch, Brooke Jones, Zachary Carlson, Lizzie Finamore, Abigail Norment, Marissa Finamore and 6 great-grandchildren.

A viewing will be held on Friday, February 28, 2020 from 2:00pm-4:00pm and 6:00pm-8:00pm at Arehart-Echols Funeral Home in La Plata, MD. Funeral services will start at 11:00am on Saturday, February, 29, 2020. Burial to follow at Trinity Memorial Gardens in Waldorf, MD. In lieu of flowers, the family requests any donations to be made to Hospice of Charles County.