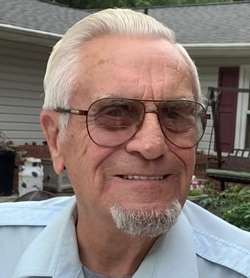 Donald Phillip Miller, 85, of Waldorf, Maryland passed away, Sunday, February 23, 2020. Don was born July 24 1934 in Tradersville, Ohio to the late Phillip and Ethel (Love) Miller. He is preceded in death by his beloved wife Rose Maire Miller of 48 years.

He is survived by one brother, Bud Miller, and two sisters, Janet (Miller) Wheeler and Martha (Miller) Thompson all of Ohio; three daughters, Donna Thomas and her husband Bill, Martha Stine and her husband Lee, and Mary Beth Miller. He was a proud grandfather of 8 grandchildren and 12 great-grandchildren. His many nieces and nephews and extended family were also very dear to his heart.

After serving 4 years in the Air Force he went on to drive for DC transit where he retired after many years driving streetcars and buses. After retirement he went on to drive commuter bus for Keller Bus Service.