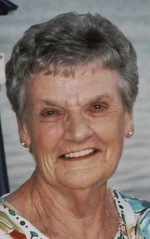 Patricia Ann "Patsy" Mattingly, 82, of Colton's Point, MD formerly from Leonardtown, MD passed on February 17, 2020 in Washington, DC, she was the loving daughter of the late Margaret Mary Mattingly and Joseph Louis Mattingly, Sr. Patsy was the loving wife of the late Joseph Herman "Hermie" Mattingly, whom she married on July 22, 1956 in St. Aloysius Church in Leonardtown, MD and who preceded her in death on November 20, 1996.

Patsy is survived by her children, Joseph Glenn Mattingly (Cheri) of Mechanicsville, MD, Robert Dale Mattingly of Colton's Point, MD, 1 grandchild, and 4 great-grandchildren. As well as her siblings Lillian Mae Beck of Columbus, OH, Joseph Louis Mattingly, Jr. of California, MD, David Howard Mattingly of Leonardtown, MD, Mary Linda Gass of Colton's Point, MD, and Robert Jamie Mattingly of Avenue, MD. She was preceded in death by her siblings, Robert Louis Mattingly and Marian Arlene Bellere.

Patsy graduated from Margaret Brent High School in 1955. She went to work for the United Associations of Plumbing and Pipe-Fitting in Washington, DC, as an Administrative Assistant to the General President in September 1961 and retired in November of 1999.

The family will receive friends on Monday, February 24, 2020 from 10:00 to 11:00 AM in the Mattingley-Gardiner Funeral Home in Leonardtown, MD where a Funeral Service will be held in the Funeral Home Chapel at 11:00 AM with Father David Beaubien officiating. Interment will follow at Charles Memorial Gardens in Leonardtown, MD. Serving as pallbearers will be Bill Mattingly, Keith Hewitt, Raley Gass, Larry Mattingly, Junior Farrell, and Tommy Bellere, Jr. Honorary pallbearers will be Kevin Bellere, Jeffrey Gass, Donnie Guy, and Leroy Blackistone. In lieu of flowers contributions may be made to the Seventh Dist. Vol. Rescue Squad P.O. Box 7 Avenue, MD 20609.