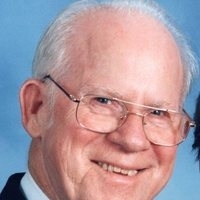 TSgt. Joseph Harold Gardiner, RET. USAF, 89, of Hughesville, MD departed this life on February 17, 2020 at Sagepoint Senior Living in La Plata, MD. Harold was born on August 9, 1930 in Aquasco, MD to the late Francis Archie Gardiner and Ella Mae (Greenwell) Gardiner.

He joined the United States Air Force in 1949 and left his beloved Maryland to defend and protect his country. Harold left the Air Force after four years to return home only to be introduced to the love of his life by his mother. His mom was working with a young girl, Clara, who she felt was perfect for her son. A chance meeting turned into a date, which became their happily ever after. After he married, the love of his life, in August 1954, he rejoined the Air Force and took his bride around the world. Over his twenty-two (22) year career, they lived in several countries and numerous states. They welcomed six children, three boys and three girls, all while he worked tirelessly as an Airman.

Patriotism was a way of life for Harold, he was a proud American who fought in both the Korean War and also in Vietnam. Never one to talk about his accomplishments, Harold never bragged about the awards and accommodations he received for his heroism, but his family knew the sacrifices he made. A man with a heart of gold, tough exterior and ambition he was always strong, but fair. He was an active member of the American Legion and Hughesville Volunteer Fire Department.

He was always a man with a joke in his back pocket to make you laugh until you cried. His laugh was contagious and his sense of humor legendary. Whether is spent an evening with his friends at the American Legion Post 238 or shooting pool, Harold had everyone laughing. You could not be around him without having a smile on your face.

No matter what you called him, Joseph, Boonie, Harold, Moose, Dad, Grandfather, or Great-grandfather you knew he loved his family above all else. His pride for his children and grandchildren sparked conversations with complete strangers (although he hardly ever met a stranger). He loved knowing that he was able to come back to his Maryland roots and be surrounded by those he loved. A great man was lost, but a legend was born. His legacy will be remembered in the eyes of his children, smiles of his grandchildren and the laughter of his great-grandchildren.

Harold is survived by his loving wife, Clara Angela Gardiner; and six children, J. Edward Gardiner (Beverly) of Chaptico, MD, Francis A. Gardiner (Cindy) of Waldorf, MD, Michael E. Gardiner (Dawn) of Westminster, MD, Carolyn Rhodes (Timmy) of Brandywine, MD, Angela Pasqual (Michael) of Silver Spring, MD and Susan Saluter (Chip) of Hughesville, MD. He is also survived by sixteen (16) grandchildren; fourteen (14) great-grandchildren; sisters, Frances "Sis" Wills of Hughesville, MD, Lorraine Cross (Jennings) of Hughesville, MD, and Mary Rose Therres, of Benedict, MD and numerous nieces, nephews and extended family. He was preceded in death by his parents, and brother, Charles (Dimp) Gardiner; sister-in-law, Teresa Gardiner; brothers-in-law, Lawrence Therres, Edward Therres and Robert Wills.

The family will receive friends for Harold's Life Celebration on Thursday, February 20, 2020 at 5:00 p.m. till 8:00 p.m. at Brinsfield Funeral Home & Crematory, P.A., 30195 Three Notch Road, Charlotte Hall, MD 20622. A prayer service will be held at 7:00 p.m. also on Thursday officiated by Deacon Bill Kyte from Immaculate Conception Church. A Funeral Mass will be held on Friday, February 21, 2020 at 11:00 a.m. at St. Mary's Bryantown Catholic Church, 13715 Notre Dame Place, Bryantown, MD 20617. Interment with military honors will be immediately following in the church cemetery.