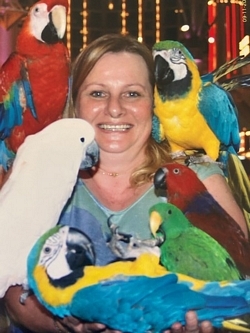 Monika Maria Gregory, 61, of North Beach, MD, passed away on February 13, 2020 at George Washington University Hospital in Washington, D.C. with her family at her side. Born in Germany on March 8, 1958 she was the daughter of Angela Harold and the late Hans Helm.

Monika earned her Nursing Degree and worked for over 30 years as a nurse in Ohio, Texas, California, and Maryland including the last 15 years at MedStar Southern Maryland Hospital Center. She loved to travel throughout the United States and Europe, and returning to Germany to visit family. Monika enjoyed reading, listening to music, and photography. One of her favorite things was sharing authentic German food with her coworkers and friends. She was always excited to spend time with her grandchildren. She loved to take them on adventures to water parks, museums, and the beach. She worked passionately in support of stroke survivors as well as supporting women to ease the pain of domestic violence.

In addition to her mother, Monika is survived by her children: Angela Maria Cox (Brian) of Hollywood, MD and Michael Dale Gregory of Hillsboro, OH; her sister, Ursula "Uschi" Hartmann of Germany; and her 8 grandchildren: Devon Cox, Savanna Cox, Troy Gregory, Liam Gregory, Axle Moore, Jace Chambers, Owen Gregory and Colt McElroy. She is preceded in death by her father, her brother, Peter Helm, and her brother-in-law, Berndt Hartmann.

The family will receive friends on Sunday, February 23, 2020 for visitation from 2:00 p.m. to 3:00 p.m. with a Memorial Service by Reverend Joe Orlando at 3:00 p.m. at Brinsfield Funeral Home, P.A., 22955 Hollywood Road Leonardtown, MD 20650. Interment will be private. In lieu of flowers, the family requests sending memorial contributions to the MSMHC Stroke Support Group. Online donations can be made at http://medstarhealth.org/philanthropy. Please designate MedStar Southern Maryland and include, In memory of Monika Gregory. Arrangements by the Brinsfield Funeral Home, P.A., Leonardtown, MD.