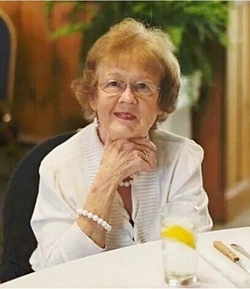 Vivian "Jane" Mays Madjeski, 78, of Lexington Park, MD passed away on February 12, 2020 at MedStar Washington Hospital Center with her family by her side. Jane was born on September 7, 1941 in Fairmont, WV to the late Clarence Melvin Mays and Nellie Janette (Morgan) Mays. Jane moved to Maryland in the fall of 1963 once she completed her degree at Fairmont University.

She started her teaching career as a science teacher at Esperanza Middle School and continued teaching in the public school system for the next 20 plus years with time at Leonardtown Middle and High School. In 1995, she began a new adventure when she accepted a position at Lexington Park Christian School (now known as King's Christian Academy) as their high school Biology teacher. She eventually transitioned from teacher to Parent Liason. She kept this title up until the day she passed. Jane was so dedicated to her job and the students she taught. She inspired so many lives and will be greatly missed.

On top of her astounding career, Jane was a devoted and loving mother. She raised two children whom she also taught in and out of the classroom. Later on in life, she earned the title of "Grammy." Her grandbabies were her pride and joy. She made sure to be present in their lives as much as possible. She also loved watching her Steelers play on Sundays, doing crossword puzzles, loving on her animals, or reading her Bible. Jane was a devout Christian and we are reassured that she is in Heaven dancing with Jesus and the angels.

Jane is survived by her son, Henry Robert "Robbie" Madjeski III, of Lexington Park, MD; her daughter, Sarah Jane Woode (Joshua Scott), of California, MD; her sister, Carol Rutherford (Bob), of Fairmont, WV; her brother, Fred Mays (Carolyn), of Fairmont, WV; and her grandchildren, Alexis, Aubrey, and Joshua Woode Jr. She was preceded in death by her parents.

Family will receive friends on Friday, February 21, 2020 from 5:30 to 8:00 p.m. at Our Father's House Assembly of God, 45020 Patuxent Beach Road, California, MD 20619. A Funeral Service will be officiated by Pastor Jay Patterson on Saturday, February 22, 2020 at 11:00 a.m. at Our Father's House. Memorial contributions may be made to The Kings Christian Academy, Development Office, 20738 Point Lookout Road, Callaway, MD 20620. Please specify Jane Madjeski Fund. Arrangements by the Brinsfield Funeral Home, P.A.