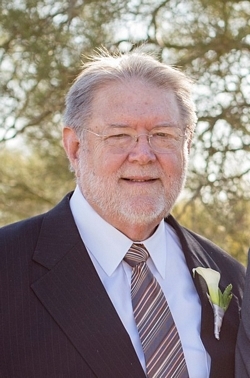 Michael Dean Beeney, 72, of Leonardtown, MD, passed away on February 9, 2020 at the University of Maryland Prince George's Hospital. Born on June 3, 1947 in St. Joseph, Missouri, he was the son of the late Deroy Dean Beeney and Beverly Claire Showalter.

Michael grew up in Long Beach, California and graduated from California State College, Long Beach, in 1970 with a Bachelor of Arts in Psychology. He worked for the City of Long Beach Recreation Department while coaching softball teams and organizing tournaments. Music was always a major part of his life. He sang in many church choirs, performed solo and with bands, directed youth and adult choirs, and recorded a gospel album.

In 1979, Michael married Janeal. Shortly after, he had an opportunity to work with McDonald Douglas (now Boeing) as a Human Resources Manager in Saudi Arabia. There, he continued his musical career, directed plays, and performed in The Messiah. He also continued playing, coaching, and announcing softball. Living internationally afforded him the opportunity to travel throughout Europe, Asia, and Africa.

After eighteen years in Saudi Arabia, Michael settled in Leonardtown, Maryland, continuing to work as a Human Resources Manager for Boeing at the Patuxent River Naval Air Station. He cherished shared hobbies with family members, including cars, sports, and movies. After his retirement in 2013, he continued singing in LPUMC and Encore Choirs. He enjoyed life as a loving husband, father, and grandfather who always prioritized the needs of others.

In addition to his beloved wife of 40 years, Janeal, Michael is survived by three children: Deanna Beeney of Bountiful, UT, Danielle Jones (Ryan) of Ladera Ranch, CA, Tyler Beeney (Lindsay) of Phoenix, AZ; sister, Pamela-Susan Beeney; five grandchildren: Clinton Shipp (Hannah), Mackenzie Rock (Nathan), Madalyn Natress (Trey), Trevor Jones, and Meredith Jones; two great grandchildren: Brooklyn Shipp and Kennedi Shipp; and many extended family and friends. He is preceded in death by his parents.

The family will receive friends for a visitation on Saturday, February 22, 2020 from 11:00 a.m. - 1:00 p.m. The funeral service celebrated by Reverend Doug Hays will start at 12:00 p.m. at Brinsfield Funeral Home, P.A., 22955 Hollywood Rd. Leonardtown, MD 20650. In lieu of flowers, the family request memorial donations be made to a charity of your choice. Arrangements by the Brinsfield Funeral Home, P.A.