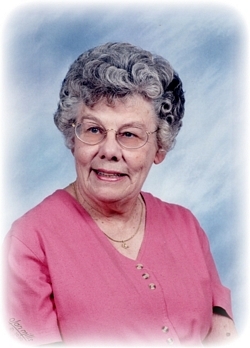 Linda Lee Beauverd, 93, of Tall Timbers, MD died on February 11, 2020 at her home surrounded by her loving family. Linda was born on May 25, 1926, in Oakland, CA to Herbert Leslie Burgess and Adelaide Marie Lind Burgess.

On April 13, 1946, Linda married her beloved husband, Arthur "Buddy" Beauverd, Jr. in Bethesda, MD. Together they celebrated over 67 wonderful years of marriage before his passing in February 2014.

Linda is survived by her sons, Bruce L. "Skip" Beauverd (Barbara) of Tall Timbers, MD, and Arthur A. "Bud" Beauverd III of Mechanicsburg, PA; her sister, Nancy Jean Dessez of Knoxville, TN; 14 grandchildren and five great-grandchildren. In addition to her parents, she is also preceded in death by her husband, Arthur A. "Buddy" Beauverd, Jr.

Linda was an extremely talented quilt maker and knitter producing garments enjoyed by her family and friends. Along with her husband, she delivered Meals on Wheels for over 20 years and instructed many groups on guided tours of St. Marys City. Linda mentored children at Piney Point Elementary school and taught catechism at St. Georges Catholic Church. Her strong spiritual faith nurtured her keen concern for other people's wellbeing and feelings. She nurtured her extended family's harmony by holiday visits and hosting summer gatherings.

The family will receive friends on Saturday, February 15, 2020 from 10:00 to 11:00 a.m. at St. George's Catholic Church, 19199 St. George's Church Road, Valley Lee, MD 20692. A Mass of Christian Burial will be celebrated by Reverend Paul Nguyen at 11:00 a.m. Interment will follow in the church cemetery.

Serving as pallbearers will be her grandsons: Bruce Beauverd, Jr., Ivan Beauverd, Chris Beauverd, Nick Beauverd, Easton Beauverd, and Arthur Beauverd IV. In lieu of flowers, memorial contributions may be made to the Hospice of St. Mary's, P.O. Box 625, Leonardtown, MD 20650 and Second District Volunteer Rescue Squad, P.O. Box, Valley Lee, MD 20692. Arrangements by the Brinsfield Funeral Home, P.A.