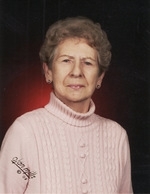 Bethel Jane Armsworthy, "Beth" 96, of Lusby, MD formerly from Hollywood, MD passed away on February 9, 2020 in Solomons, MD. She was born January 18, 1924 in Andover, NY and was the daughter of the late Helen Baldwin Eldridge and Claude Earl Eldridge. Beth graduated from Elmira High School in 1942. She moved to St. Mary's County in 1963 from Virginia Beach. She was the President of A&M Glass Company for 35 years, retiring in 2004.

Beth was the loving wife of the late James Horace Armsworthy whom she married on March 17, 1945 in Romulus, NY and who preceded her in death on September 20, 1982. Beth is survived by her children Ronald David Armsworthy (Susan Carol Jarboe) of Hollywood, MD, Philip Stephen Armsworthy (Betty Lynn Sterling) of Leonardtown, MD, Elizabeth Jane Previti (Michael Louis Previti) of California, MD; siblings Maxine E. Steenwerth of Virginia Beach, Martha E. McCombs of Virginia Beach; 5 grandchildren, and 8 great-grandchildren. She was preceded in death by her son James Michael Armsworthy.

A funeral service will take place on Thursday, February 13, 2020 at 10:00 AM in Hollywood United Methodist Church Hollywood, MD with Pastor Katie Paul officiating. Interment will follow in St. John's Catholic Cemetery, Hollywood, MD. Serving as pallbearers will be Scott Armsworthy, Ryan Armsworthy, Stephen Armsworthy, Brent Armsworthy, Carolyn Armsworthy, and Will Armsworthy. Honorary Pallbearer will be Allison Armsworthy.