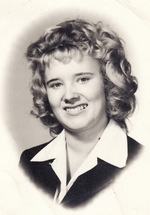 Anita Marie Meridith Nelson, 74, of Mechanicsville, MD passed away on February 7, 2020 in Callaway, MD. Born on July 28, 1945 in Washington, DC she was the loving daughter of LoVisa Jane Battenfield of Leonardtown, MD and the late John Robert Battenfield. Anita was the loving wife of John Vernon Nelson, Sr. whom she married on September 20, 2019 in Leonardtown, MD.

Anita is survived by her children Rachele M. Meridith of Mechanicsville, MD, Crystal L. Meridith of Waldorf, MD, and 1 grandchild Sarah Meridith Hicks. Siblings Barbara Bowles (George), Roberta Adams (Tony), and Rebecca Kendall (Tom). She is preceded in death by her first husband James E. Meridith Sr., son James E. Meridith Jr., and her sister Cecelia Adams.

Anita was a ray of sunshine to all who knew her, especially to her family. She was a loving wife, mother, daughter, aunt, sister, neighbor and friend. She married her late husband, James E. Meridith, Sr. on September 24, 1966. They spent 50 happy years together. She was a doting mom of her son, Jimmy Jr. and daughters Rachele and Crystal. She became a beloved "Maw Maw" to her first and only grandchild, Sarah Hicks in 2015.

She was an eternal optimist and was one of Mickey Mouse's biggest fans as evidenced by numerous family vacations to Disney World. They also loved driving on the beach in Daytona during the FL trips. They once had the pleasure of attending the Daytona 500 races, driving south in Jimmy's sporty corvette on a 2nd honeymoon! Anita was an avid doll collector, doll maker and instructor. She acquired and loved all sorts of collectibles, from Franklin Mint, Danbury Mint, and Tom Clark Gnomes. She enjoyed gardening and working in her flower beds and had quite the green thumb!

She worked hard raising a family, working as a secretary for the county government and after a short retirement period also worked for the Town of Leonardtown. Her first professional job was for the State government with Juvenile Services. She held various county government positions, including Planning and Zoning which included many late nights taking meeting minutes for the St. Mary's County Commissioner's meetings.

Anita absolutely loved Christmas and decorated nearly every room. She loved baking and made the prettiest lemon meringue pies anyone has ever seen! She was a very generous giver and was very crafty too. She also loved entertaining and threw some of the best super bowl parties in family history! She made many handmade treasures for her family and friends throughout the years. She had a true knack for decorating and would look at country magazines for hours until she could reproduce the same look in her own home.

In 2018 she was reunited with her first love from 57 years ago, Jack Nelson, and they were married on September 20, 2019. She had recently taken on two new interests, playing weekly bingo at Mother Catherine Academy and attending local tractor pulls with Jack and his family and friends. She was learning all the ropes about tractor sports and they had so much fun darting around on their golf cart at various events. She dearly loved her three Shih Tzu puppies, Buttercup, Maggie and Bo Bo. She will forever be remembered for always having a smile on her face.

The family will receive friends on Tuesday, February 11, 2020 from 5:00 PM to 8:00 PM with prayers recited at 7:00 PM in the Mattingley-Gardiner Funeral Home, Leonardtown, MD. A Mass of Christian Burial will be celebrated on Wednesday, February 12, 2020 at 10:00 AM in Our Lady of the Wayside Catholic Church Chaptico, MD with Father Michal Sajnog officiating. Interment will be private. Serving as pallbearers will be Frank Vallandingham, John V. Nelson, Jr., Chris Kendall, Timmy Vallandingham, Howard A. (Tony) Adams, and Tom Kendall. Honorary Pallbearers will be Jimmy Strine, George W. Bowles, Sr, Frank Kendall, Johnny Kendall, and Leonard Nelson. Contributions may be made to Hospice of St. Mary's P.O. Box 625 Leonardtown, MD 20650.