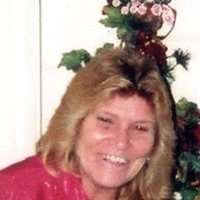 Deborah Marie Hill, 60, of Huntingtown, MD passed away peacefully at Hospice of the Chesapeake on February 2, 2020. Debbie was born on August 30, 1959 in Cheverly, Maryland to the late William Joseph Pitner and Doris Marie (Houser) Pitner. A hard-working woman, Debbie worked as a house painter for most of her adult life. She enjoyed bringing color and light to a family home.

She was adored and loved by her family. Debbie was an artist and talented illustrator. She found joy in writing poetry and expressing her feelings with her words. She also enjoyed coloring in the adult coloring books. Debbie was a crossword genius and loved to show off her knowledge by completing the puzzles. An avid television viewer, she enjoyed the ID channel. Debbie was fun-loving, and the life of the party. She was always willing to lend a helping hand. She had a wonderful bond with her siblings and even lived with her sister, Chrissy.

Debbie is survived by her children three (3) sons, Michael Hill, Christopher Hill and Scotty Hill; two (2) grandchildren; and numerous siblings, Mike Pitner (Terry), Wayne Pitner, Chris Pitner (Jennifer), Chrissy Tomco (George), Patrick Pitner, Billie Jo Messinio (Joe), Doris Ann Fowler and Shannon Benton. She is also leaving behind her nieces, nephews and extended family. She was preceded in death by her parents, and three (3) sisters, Patty Miles, Dawn Redford and Donna Pitner.

The family will receive friends for Debbie's Life Celebration on Saturday, February 15, 2020 from 1:00 p.m. to 3:00 p.m. with a Funeral Service at 3:00 p.m., officiated by Deacon Bill Kyte at Brinsfield Funeral Home & Crematory, P.A., 30195 Three Notch Road, Charlotte Hall, MD 20622. Interment will be private. In lieu of flowers, the family would request donations be made in Debbie's name to Brinsfield Funeral Home, Post Office Box 128, Charlotte Hall, MD 20622. Arrangements by the Brinsfield Funeral Home & Crematory, P.A., Charlotte Hall, MD.