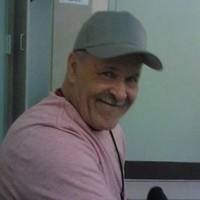 Francis Camillus Thompson Sr. (Joe-Joe) departed his earthly life on Monday morning January 27, 2020 at 12:55 am surrounded by his loving family at The Hospice Care House in Waldorf Md.

Joe-Joe was educated in the Charles County Public School System. He was also a member of the Piscataway Conoy Tribe. He enjoyed spending time with his family more than anything. He would stop by with a large pizza and a case of Pepsi sodas just to watch movies and fellowship. He loved being down "Proctor's Inn" whether it was for a ball game, to play chess, hang out with close cousins and/or dance at the disco's. He loved to sing Smokey Robinson's music. He use to work for Ray Vest driving dump trucks. He loved to watch Kung-Fu movies, and eating a good meal like Fried potatoes and beans as a pastime. Life of the party was what he was, making everybody laugh with his crazy stories/jokes! Forever he will be missed.

He is preceded in death by his wife Margaret (Denise) Proctor-Thompson, and Parents Maxwell & Annie Thompson. Sisters Agnes Neal, Patricia & Monico (June) Thompson. Brothers Ricky & Kipp Thompson. Grandson Dennis Carroll, Jr. Great Niece Jhonnay Fenwick and Great Nephew Jonathan Savoy.

He leaves to cherish his memories with his name sake: Francis (Joey) Thompson Jr. Daughters Brenda (Nenny)Brawner and Tiauna Thompson. His bonus son James (Lonta) Sewell. His daughter-in-Love Ms. Nikia Smith. His Son-in-Love Mr. Antwan Lyles. Grandchildren : Desirea Johnson, Dasia Brawner, Marquese Smith, Marquet Thompson Sr. DaMario & D'Angelo Carroll, Jaonta & Kennedy Thompson, De'Georgio, Kirsten, & Serenity Sewell, & Sevyn Lyles. Great Grandchildren: Dakota, Dallas & Dylan Johnson, Marquet Thompson Jr. & Faven Brawner.

Sisters: Christine (Mitchell) Tolson, Tami (Johnny) Savoy, Freda Thompson. Brothers:Tony (Theresa) Thompson & Todd (Lucky) Thompson. (21) Niece's & Nephew's, (34)Great Niece's & Nephew's, & (16)Great-Great Niece's & Nephew's.

*Although he & Tamela Brown divorced years ago, she's still considered his "wife" as he would put it.

His Viewing will be, 10:00 am until time of Service, 11:00 am, Friday, February 7, 2020 in the Chapel of Thornton Funeral Home, P.A., 3439 Livingston Road, Indian Head, Maryland 20640. Interment, Heritage Memorial Cemetery, 13472 Poplar Hill Road, Waldorf, Maryland 20601.