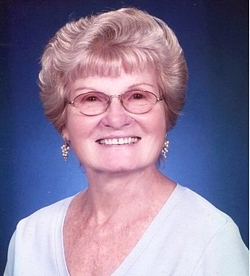 Mary Frances Madden was born Mary Frances Settle to mother, Frances Caroline Settle (Woodard) and father, Moffett Lee Settle Sr. on December 18, 1932 in Culpepper, VA. The family later moved to Washington DC. Mary attended McKinley High School.

Mary was the beloved wife of the late Alfred "Roy" Leroy Madden, Sr. and loving mother of the late Linda Ann Novak, Alfred Leroy Madden, Jr. (Pattie), the late Roger Lewis Madden, and Donna Jean Rinaldo (Ray). Mary was a cherished sister of Richard Settle (Sheila), the late Gladys Greene, Moffett Settle (Grace), and Gilbert Settle (Brenda); and devoted Grandma of Eric Schaub, David Schaub, Jamie Chinault, Julie Hill, Philip Madden, Jennifer Cooksey, Steven Johnson, Greg Johnson, Christopher Madden, Kyle Madden, Tara Rinaldo, and Emily Rinaldo and 16 Great Grandchildren. She was blessed with several treasured nieces and nephews who appreciated her integrity and nurturing.

Born the oldest of five children, Mary was a natural young caregiver to her family. This was to be her calling throughout life. In addition to raising four children, she was honored to care for her mother and mother-in-law when needed and for many residents in her 7 years working at Regency Nursing Home. Mary went on to work as a Deli Manager at Giant Food, where she retired after 25 years of service.

Mary was a Christian woman who, along with her husband and young children, enjoyed being members of the First Baptist Church of Capitol Heights for many years. Roy was a Church Deacon for twenty years and Mary cared for the children of the church, taught Sunday School and was always available to help prepare a meal. Later in life, Mary found another caring community as a member of the First Baptist Church of Waldorf. She was honored to teach a Sunday School class of senior members and continued to assist, when physically able, with food preparation.

Always willing to help others, she found time to care for people of all ages in any way, whether it be family children or elderly members of her community. Mary was a wonderful role model to them all. Although she was experiencing issues with her eyes lately, Mary was proud to have recently "read the Bible front to back". When she was able, Mary enjoyed working outside gardening anywhere needed or just walking in the woods. She was very proud of her family and loved spending time sharing stories and listening to them all laugh together, especially at the annual Settle/Madden family reunions.

Mary was the family chef and meal organizer for every birthday, holiday and vacation. Whether they were all coming off the beach or off a ski slope, Mary had a meal ready for 20 or more family members when they arrived to the table ready to share their day with her. While all of her special dishes will be missed at our family table, it is her big smile, generous heart and caring nature that will be sorely missed by all whose lives she touched.

A Memorial Gathering will be held at Huntt Funeral Home at 10 am on Friday, February 7, 2020 with the Memorial Service immediately following at 11 am. Mary will be interned at the Maryland Veterans Cemetery with her husband Roy at a later date. In lieu of flowers, the family has requested donations to Hospice of Charles County.