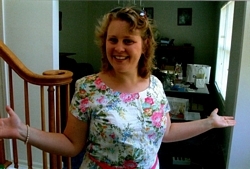 Christine Marie Kalil, 42, of Lexington Park, MD passed away at her home on January 27, 2020 surrounded by her loving family after a courageous two year battle with cancer. She was born on June 26, 1977 in Streator, IL to Kenneth L. Jordan of Pontiac, IL and Lynne Corcoran Jordan of Princeton, IL. On July 14, 2007, she married her beloved husband, David J. Kalil at St. Aloysius Catholic Church in Leonardtown, MD. Together they celebrated over 12 wonderful years of marriage.

Christine is a 1999 graduate of Bradley University Peoria, IL with a Bachelor of Arts degree in Art. She later earned her Master's in School Guidance Counseling from Johns Hopkins University in Baltimore, MD. She was employed for a year by Disney World in Orlando, FL, as a character (Chip and sometimes Dale). It was there she discovered her love for children and her desire to enter into the educational system. She began her career as an art teacher in Nashville, TN at Mount Juliet and the public school system for a total of five years. She moved to Southern Maryland and was a dedicated elementary school guidance counselor at Oakville, Mechanicsville, Ridge, Park Hall, White Marsh and Green Holly, until she was no longer able to work.

She was a talented artist and specialized in scenery and portraits, using both acrylics and watercolor. She had an affinity for theater and was actively involved since high school. She was a member of the Newtown Players and sang solos in Evita, Mr. Snow, Georgie Girl, Bye Birdie, and She Love Me, which she starred in with her husband. She was a past member of the St. Aloysius Music Ministry and a long-time member of Immaculate Heart of Mary music ministry. She enjoyed going to shows in New York City, the Kennedy Center, the National Theater, and to dinner theaters. She was an avid traveler, having taken girl trips with her mother and aunts to Ireland, and family vacations to New York City, Boston, Maine, Florida, and Hawaii. A

fter getting married she continued to travel with her husband to Tennessee where she particularly enjoyed Nashville, Gatlinburg, and Knoxville; the Bahamas, Disney World many times, and the Shenandoah Mountains; and trips home to visit family in Illinois. She also traveled with her mom's family to Hawaii and Disney. However, one of her favorite trips was to Time Square in NYC where her husband proposed marriage to her under the Christmas tree. She enjoyed cooking and canning, especially, apple butter, tomatoes, homemade spaghetti sauce, salsa, peach salsa, and applesauce. She loved children, and had foster children that she cared deeply for prior to her illness. She was close to her family and loved to spend time with them and her husband.

In addition to beloved husband, David, she also survived by her loving mother, Lynne Corcoran Weber and step-father, Alan Weber of Princeton, IL who loved and raised her as his own child; her father, Kenneth L. Jordan and his wife Virginia of Pontiac; her grandmother, Norma Weber of Oglesby, IL; her aunts and uncles: Jan Bartel (Jim) of Westmont, IL, Debbie Porth (Rick) of Streamwood, IL, Jim Corcoran (Alice) of Downers Grove, IL, Bill Corcoran of Bloomington, IL and Dave Tuntland of Serena, IL; her great aunt, Lois Webb of Ottawa, IL and her brother and sister in-laws: Tom Kalil (Mary Ellen) of Fairfax, VA, Darlene Connelly (William) of Bowie, MD, and Lou Kalil (Ana) of College Park, MD; along with 13 close cousins; 10 nieces and nephews and great nieces and nephews, and many extended family and friends. She is preceded in death by her godmother and aunt, Kathy Tuntland, grandparents John and Edith Corcoran and David's parents Ford and Renee Kalil.

Family will receive friends on Thursday, January 30, 2020 from 5:00 p.m. to 8:00 p.m., with prayers recited by Deacon Juan Ortiz at 7:00 p.m., at Brinsfield Funeral Home, P.A., 22955 Hollywood Road, Leonardtown, MD, 20650. A Mass of Christian Burial will be celebrated on Friday, January 31, 2020 at 11:00 a.m. by Reverend Marco Shad at Immaculate Heart of Mary Catholic Church, 22375 Three Notch Road, Lexington Park, MD 20653. Interment will follow in the church cemetery.

A Memorial Mass will be celebrated February 8 at 10:30 a.m. by Reverend Daniel Gifford at St. Louis Catholic Church in Princeton, IL Serving as pallbearers will be Christian Kalil, Patrick King, Kevin Stevens, Matthew Menard, Tom Dannan, and Thomas Montagnes. In lieu of flowers, donations may be made to the American Cancer Society, 405 Williams Court Ste. 120, Baltimore, MD 21220, Immaculate Heart of Mary Catholic Church, 22375 Three Notch Road, Lexington Park, MD 20653, or Hospice of St. Mary's, P.O. Box 625, Leonardtown, MD 20650. Arrangements by the Brinsfield Funeral Home, P.A.