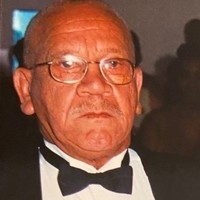 On the morning of Wednesday, January 15, 2020, Clifford Louis Dunnington, "Dinks" departed this life at his home in Indian Head, Maryland. He was born August 11, 1935 and was the youngest child of the late Marcellous Dunnington and Ada Penny Dunnington. He was educated in the Charles County Public School system.

He was united in holy matrimony with Frances Elaine Matthews, who preceded him in death. They had one daughter, Tara Dunnington Batts. In addition, Dinks and Frances were like parents to several other children, including Kaya, Nakia (Diggy), Kim, Kay (Pat-Poose), Clifford (Wee-Wee), Lynn, Charles (Fluffy) and Toby.

On November 30, 1998, he married Elizabeth Jackson Dunnington who also preceded him in death on August 12, 2019. From that union there were two step-daughters, Gloria Montgomery, and Anissa "Peaches" Washington.

In addition to his parents, Clifford was preceded in death by his siblings, John Francis Dunnington, Howard Marcellous Dunnington, Mabel Lorena Warren, Olive Catherine Barnes, Charles Raymond Dunnington, Clarence Joseph Dunnington, Randolph James Dunnington, Hazel Cecilia Taylor, William McKinley Dunnington, and Paul Alton Dunnington.

After the death of Dinks' mother, his older brother Charles and his wife Genevieve took him in and raised him as their own along with their daughter Ada Bowman who was like his sister/best friend.

"Dinks" began his career at the Naval Ordinance Station in Indian Head Maryland as an Explosive Worker. He worked there for over 30 years before retiring. In addition, he was an entrepreneur who started his own bus company – Dinks Bus Service with his wife Frances in the late 1970's. It continues to be a successful business today.

Dinks was a member of Pleasant Grove Missionary Baptist Church for over twenty years. During the 60's, Dinks was very active as a manager/coach for the well-known baseball team "The Pisgah Boo-Boos".

"Dinks" enjoyed watching baseball and old westerns with his wife Elizabeth and his brother Paul "Poogie". He also enjoyed camping with his wife Elizabeth and drinking coffee all day, socializing with others at Grinders store.

Left to cherish many memories is his daughter, Tara "Tinka" Batts (Anthony), step daughters, Gloria Montgomery and Anissa "Peaches" Washington (Harry Jr. "NuNu"); five grandsons, Kareem Mohamednur (Mel), Kofi Batts, Harry "Tre", Dalano and Mekhi Washington; six great-grandchildren, sisters-in-law, Agnes "Jean" Smith and Alease "Jackie" Thomas (John); devoted niece, Jacqueline Marbury "Cookie" and a host of nieces, nephews and other relatives and friends.