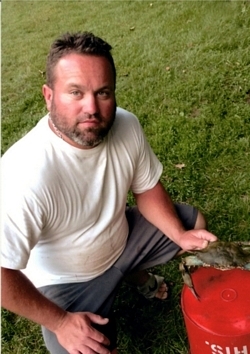 Daniel (Danny) M. Annan Jr., age 46, passed away peacefully on Saturday, January 11, 2020, in the comfort of his home surrounded by his family and friends. He was born on July 22, 1973 in Prince George's County, to Daniel Sr. and Joyce Annan. He worked as an Electrician for Free State Electric (IBEW), and he had a deep respect for those he worked with and cherished their friendships.

On November 16, 2019, Danny married his soul mate, Mandy Annan, who brought so much joy and love to his last four years of his life. Danny grew up crabbing, fishing, hunting, and playing sports with his parents, sister, and childhood friends. Danny enjoyed sharing his passion and wisdom with everyone he came in contact with. He never met a stranger. Danny always called those he loved and would talk to you as long as you would allow him to. More than anything, Danny loved being a child of God and a father to his children. He was a self proclaimed momma's boy, his dad's best friend, and his sister's hero and sidekick. Danny was very close with his parents and sister. They all four shared a unique bond.

Danny was survived by his father and mother (Daniel Sr. and Joyce Annan), his children (Daden Annan, Emerald Annan, Jonah Annan, and Isabella Rugile), his sister (Stacy Oakley), his sister-in-law (Belinda Oakley), his niece (Paige Nims), and many other nieces and nephews, his wife (Mandy Annan), along with many loving uncles, aunts, cousins, and friends.

Family will receive friends for Danny's Life Celebration on Thursday, January 16, 2020 from 5:00 to 8:00 p.m. with a Prayer Service at 7:00 p.m., at Brinsfield Funeral Home, 22955 Hollywood Road, Leonardtown, MD 20650. A Funeral Service will be held on Friday, January 17, 2020 at 10:00 a.m. at the funeral home. Interment will follow at Charles Memorial Gardens, 26325 Point Lookout Road, Leonardtown. In lieu of flowers, donations can be made to Duke University, Institute for Brain Sciences, 308 Research Drive, LSRC M051, Campus Box 91003, Durham, NC 27708 or the University of Florida, UF Health Cancer Center, Office of Development, PO Box 103633, Gainesville, FL 32610 for brain cancer research.