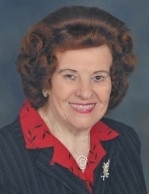 Hilda Elizabeth (Lumpkins) Olson, 93, of Piney Point, MD died January 7, 2020, at St. Mary's Hospital. Born May 14, 1926 in Leonardtown, MD she was the daughter of the late Maurice Hamilton Lumpkins and Mable Lottie (Potter) Lumpkins. She married her husband, Bernard (Ole) Edwin Olson, on June 23, 1945 at St. George Island Methodist Church in St. George Island, MD. He preceded her in death on October 19, 2007. She was preceded in death by her brothers James Lumpkins and Wallace Lumpkins and her sister Phyllis McKinney. Hilda was also preceded in death by her oldest grandchild, Jennifer Lynn Olson on February 25, 2013.

Mrs. Olson was a devoted wife, mother, grandmother, great-grandmother who enjoyed life with her family. She loved the outdoors working in the yard with her flowers in the summer time. She also was a substitute 4th grade teacher at Piney Point Elementary School. She enjoyed playing Bingo and going to the horse races. She was a volunteer member of the community, serving on various boards and committees. She served as a volunteer for the cancer fund for 15 years. She served as member of the St. Mary's Hospital Auxiliary for 38 years. She also served as Vice-President for 6 years. She was Secretary for 5 years and ran the Gift shop at St. Mary's Hospital for 10 years. She was also a member of the St. Mary's Hospital Board from 1989-1994. She donated her time as an assistant to the information desk for 5 years at St. Mary's Hospital. In addition, she served on the Human Resources Committee of St. Mary's Hospital. She also served as a member of the Asbury's-Solomons Board of Directors from 1995-2000.

She was President of the Piney Point Lions Club from 1989-1991. She also was president of the Lioness Club of Piney Point from 1981-1982. During her tenure she received an appreciation award from the Lioness club in 1981. She also received the Golden Award from St. Mary's Hospital for exceptional volunteer service for raising $1000 for the Hospital. She also was a member of the St. Mary's Hospital Foundation for 6 years. In her younger years, after graduation from Great Mills High School, she worked at the Naval Air Test Center as a civil servant from 1945-1948. During her tenure she received a work accomplishment award.

Hilda is survived by her younger brother Ray Hamilton Lumpkins of Shrewsbury, PA and her son, Richard Glenn Olson of Lexington Park, MD. She is survived by 3 grandchildren, John Olson, Melissa Olson Phipps, and Emily Olson. She also had 8 great grandchildren, Dylan, Jeramey, Ashley, Brooke, Aliyah, Lincoln, Journey, and Elliana.

The family received friends Tuesday, January 14, 2020, from 5-8 pm with prayers at 7 pm at the Mattingly-Gardiner Funeral Home in Leonardtown, MD. Where Funeral service will be held on Wednesday, January 15, 2020 at 10 am in the Funeral Home Chapel. Interment will follow at the Charles Memorial Gardens, Leonardtown, MD with Pastor Cindy Caldwell officiating from First Saints Community Church. Pallbearers were Jimmy Lumpkins, Brian Russell, Jim Amsden, Scott Phipps, Mark Jones, and Greg Boggs. Honorary Pallbearers were John Olson, Shelly Russell, and Greg Madjeski. Memorial contributions may be made to St. Mary's Hospital Auxiliary, 25500 Point Lookout Rd. Leonardtown, MD, 20650.