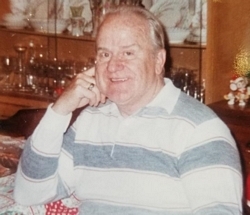 William "Bill" Wilson, 95, passed away on January 4, 2020 in Charlotte Hall, MD. Bill was born on April 4, 1924 in Philadelphia, PA to the late Charles and Margaret Harris Wilson. He served in the United States Army during World II.

Bill married his wife, Yvonne and the couple had six children. He has been employed as the Hall Manager with the Knights of Columbus in Forestville, MD prior to his retirement after over 30 years of service. He was a devout Catholic and was a member of Mt. Calvary in District Heights, St. John Vianney in Prince Frederick and St. Anthony's in North Beach.

Bill loved both watching and participating in sports. He was a huge Redskin fan his entire life. He refereed high school and college football and was a baseball umpire, became the commissioner of the Metropolitan Umpire Association and was inducted into the Washington DC Hall of fame, honoring his dedication to baseball.

Bill is survived by his sons, Frank (Debbie) Wilson of Clinton, MD, John (Barbara) Wilson of Waldorf, MD, Jimmy (Elaine) Wilson of Milton, DE and Doug (Anna Mae) Wilson of Lusby, MD; daughters, Deanie Herbert of Deale, MD and Valerie (John) Posner of Huntingtown, MD; sister Margie Strohecker of Billings, MT; 11 grandchildren and 13 great-grandchildren. Bill was preceded in death by Yvonne, his wife of 65 years and his son-in-law Willie Herbert.