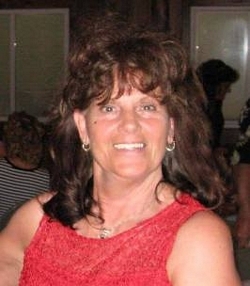 Joan Theresa Johnson Norris, "Joannie", of Hollywood, Maryland passed away peacefully surrounded by family and friends at St. Mary's Hospice after a long 6 year battle with cancer on January 5, 2020. Joannie is survived by her two sons, Charles Benedict Norris, Jr., and Dr. Brian Michael Norris. She is also survived by 6 grandchildren and one Great Grandchild.

Joannie will be remembered as a loving Mother, Sister, Daughter, Aunt, as well as a close friend to many in the St. Mary's County community. No one was a "stranger" to her. Her larger than life personality and love for everyone touched the hearts of many and was a true blessing to all who knew her. Joannie was a St. Marys County Native and resident all her life, and after graduating from Chopticon High School she began working for 9 years at the C&P Telephone Company followed by 34 years with The Kmart Corporation where she won countless employee of the year awards and received the distinguish honor of representing the Company in Annapolis before Governor Willian Donald Shaefer prior to her retirement in 2010. Many affectionately referred to her as the "Retail Queen or Miss Kmart".

She is survived by her siblings John Bertman Johnson of Nanjemoy, Shirley Ann Dean of Clements, Mary Ellen Curry of LaPlata, Dorothy Marie Gonzalez of Tampa Fl, James Edward Johnson of Charlotte Hall, David Wayne Johnson of Callaway, Phyllis Faye MacDonald of Indiana, Brenda Gayle Yates of Clements, Patricia Darlene "Patsy"Murphy of Mechanicsville, and William Alfred Johnson of Leonardtown. She is preceded in death by her beloved parents, George Thomas Johnson Sr., and Dorothy Ann Faunce Johnson. She is also preceded in death by her eldest brother George Thomas Johnson Jr. and her sisters Mary Elizabeth "Betty" Hayghe, Janice Christine "Tina" Lyghtle, Catherine Delores Lawrence, Barbara Jean "Jeannie" Wheatley, Judy Lee Earp, Nancy Diane Neill, Peggy Susan Johnson, Vicky Lynn Johnson, and Joyce Ann Johnson.

Viewing will be from 5:00 PM to 8:00 PM with prayers recited at 7:00 PM at Mattingley-Gardner Funeral home on January 13th, 2020. Prayers will be led by Father David Beaubien of St. Aloysius Church at which time a decade of the Holy Rosary will be recited A Catholic Mass of Celebration of Joannie's life will be held at St. Aloysius Catholic Church in Leonardtown, Maryland on Tuesday, January 14th, 2020 at 9:30 AM. A Eulogy co written by her son Brian Michael Norris and niece Joyce Renee Ridgell will be given by Joyce Renee Ridgell, daughter of Mom's deceased sister Jeannie. Active pallbearers will be James Edward Johnson, David Wayne Johnson, Michael Dean, Thomas Curry Jr, Kirk D. Rustin, and Tyler Anthony Nelson. Honorary pallbearers will be Matthew Norris, Carley Norris, Chelsey Nicole Norris, Wyatt Nicholas Larson, Elias White, and Alexis Renee Ridgell. Interment will follow the funeral mass at St. Mary's Queen of Peace Cemetery in Helen, Maryland. Contributions may be made to Hospice House of St. Mary's P.O. Box 625 Leonardtown, MD 20650.