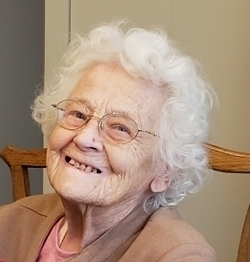 June Helen Kretzing, 100, of North Beach passed away January 7, 2020 at Sage Point Assisted Living in La Plata. She was born June 24, 1919 in Pennsylvania to Charles Benjamin and Emma Jane (Matlick) Brownfield. June was primarily a homemaker and also worked in the nursery at Andrew's Air Force Base and later in the cafeteria at Forestville Elementary School.

She was a member of St. Anthony's Catholic Church, where she was active in the Ladies of Charity. She also volunteered for Meals on Wheels and the St. Anthony's Food Pantry. She enjoyed helping the elderly, children and animals. She also enjoyed watching sports and spending time with her family.

She was preceded in death by her husband, Paul Ray Kretzing. She is survived by children Paul Ray Kretzing, Jr. and wife Doris of Waldorf, Charles E. Kretzing and wife Jeanne of King George, VA, Carol Chapman of Owings and James A. Kretzing and wife Laura of Huntingtown. Also surviving are nine grandchildren, twenty-one great-grandchildren and four great-great-grandchildren. Arrangements by Rausch Funeral Home.