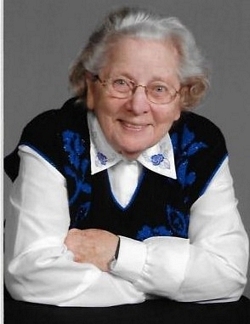 Mary Coffey Galemore, 95, of Dunkirk, MD passed away in Annapolis on January 4, 2020. Mary was born on December 20, 1924 in Fair Play, Missouri to the late Girtha "Gus" and Vergie Mae Welsh Coffey. She married Fred Carven Galemore in 1944. Mary had lived in the Dunkirk area since 1985.

She worked as a secretary for the Prince George's County Public School System from which she retired. Retirement afforded her the opportunity to do the things she loved. She was an accomplished vegetable gardener and was described by her family as a "world traveler." Mary was very religious; she read the Bible in its entirety 18 times.

Mary is survived by her sons, Fred Joseph (Mary) Galemore of Huntingtown, MD and Michael Galemore of Pensacola, FL; daughters, Pam Galemore of Elkridge, MD; daughter-in-law, Kay Galemore of Frederick, MD; seven grandchildren and eight great-grandchildren. In addition to her parents, Mary was predeceased by her husband, Fred; her son, Ronald Lee Galemore; three brothers, Herbert, Dink and Kenny Coffey and three sisters, Fern Miller, Reva Forbes and Leanna Coffey.