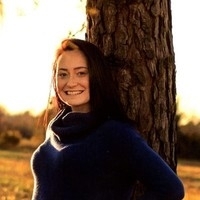 Mariah Elizabeth Bell, 23, of Alexandria, VA formerly of Mechanicsville, MD passed away unexpectedly on December 28, 2019. She was born on July 4, 1996 in Cheverly, MD to Robert Bell of Lothian, MD and Christine Rivera of Mechanicsville, MD. The day she chose to arrive was a sign from above that she'd always be a firecracker. A bright, vibrant and colorful light that lit up the sky and went away to fast.

Mariah worked as a manager at a Boarding and Grooming business in Alexandria. She loved her job so much, she was taking classes to become a Vet Tech. Her sweet demeanor and patience made her a favorite to her clients and their owners.

Mariah was a beautiful, kind and loving woman. An adventure seeker with a heart of gold. She was always the first to jump and the last to stop laughing. The life of the party but always the first person you would call if you were in need. Mariah was an empathic woman who always stood by your side. Family came first and she loved nothing more than spending time with them. She looked forward to their yearly trip to the Outer Banks. Sun, sand, family and was a happy girl.

On any given Sunday, you could find her rooting on her beloved Dallas Cowboys or checking her rankings in her fantasy football league. If there was an opportunity to be outside, surrounded by God's beauty, Mariah took it. She loved skydiving, hiking and four-wheeling. The next time the opportunity presents itself to do something daring, remember Mariah and her spirit will help you take the first big step into your next adventure.

Mariah was full of life. She was a beautiful soul, full of energy and light. She will be missed by many and her memories will live on for eternity. Even the most beautiful fireworks fade, but the joy they bring to those who saw them will be remembered forever.

Mariah is survived by her parents Robert Bell of Lothian, MD and Christine Rivera, of Mechanicsville, MD; three (3) brothers, Cole Rivera, of Mechanicsville, MD, Cruz Rivera of Mechanicsville, MD and Joseph Hutchinson of Lothian, MD; and four (4) sisters, Vanessa Tyree of Mechanicsville, MD, Brianna Bell of Lothian, MD, Hailey Bell of Lothian, MD and Celeste Edwards of North Beach, MD. She is also survived by her grandparents, aunts, uncles, cousins and many other family members.

The family of Mariah would like to invite friends for her Life Celebration on Sunday, January 5, 2020 from 12:00 p.m. to 2:00 p.m. with a Remembrance of Life Service at 2:00 p.m., at Brinsfield Funeral Home & Crematory, P.A., 30195 Three Notch Road, Charlotte Hall, MD 20622. Interment will be private. In lieu of flowers, the family would request donations be made to Vibrant Emotional Health, Attention: Development, 50 Broadway, Fl 19, New York, NY 10004. Arrangements by the Brinsfield Funeral Home & Crematory, P.A., Charlotte Hall.